Navy woman tops army survival course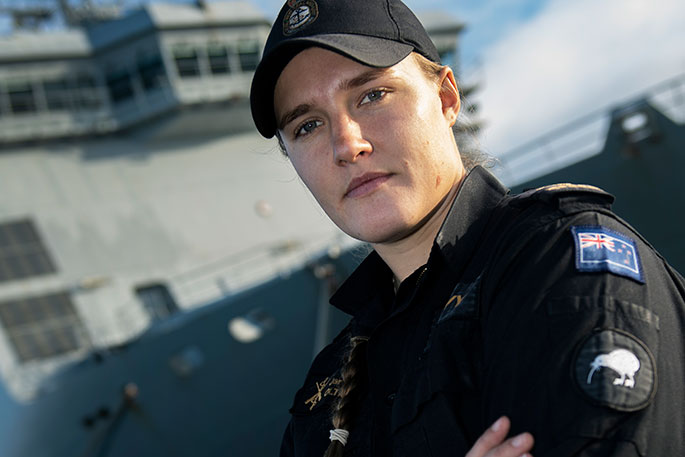 A Whakatane sailor has become the first woman to top the New Zealand Defence Force's 35-day survival course.
The course, called the Aumangea programme and run by the New Zealand Army, seeks to boost the spirit and belief of participants to set them up to win, regardless of the environment.
Able Seaman Combat Specialist Janneke Olthuis, from Whakatane, excelled at the programme earlier this year.
She was surprised but also filled with pride when she discovered she had come out on top.
"I do believe that nobody is limited by anything, everyone is just as strong as the next person, and it's just a mind-set," she says.
"I know there were others who deserved the trophy too, and hope that me topping the programme inspires others to give it a go and do the same things."
The Aumangea programme places participants in high-tempo, fluid situations where the unknown is a large factor.
It can involve extreme physical and psychological pressure and the aim is for the participants, having been put to the test, to return and be a force for change regardless of their rank or position.
Able Seaman Combat Specialist Olthuis, who joined the Royal New Zealand Navy in 2015 and is serving on HMNZS Canterbury, says the programme taught her to take a step back and look at what was around her and apply that to everyday life.
"I learned what was necessary and what wasn't, what mattered and what didn't, what I wanted and what I didn't want, and was able to transfer that into my everyday life at home.
"I even knew what I wanted to do with my career and what was next for me – something I had been trying to figure out."
The programme also allowed her to get to know herself better and understand how to get the best out of herself.
"It is totally true that the body will do as much as the mind tells it to but we create excuses to let ourselves think we can't.
"The programme pushed me through any of my excuses and although we didn't really say it aloud, we all had them, but we pushed them aside ourselves."
More on SunLive...