Athletes to hit the ground running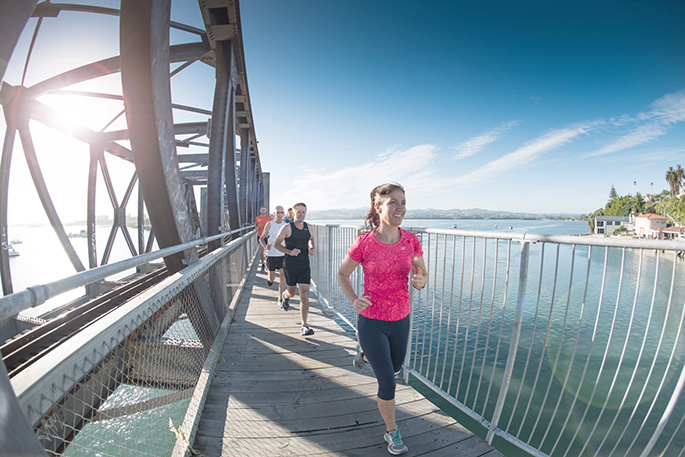 An event which saw more than 1200 runners traverse the city's beautiful natural landscapes in 2017, will again take to the streets of Tauranga.
The Tauranga International Marathon will return to one of New Zealand's fastest growing cities and favourite holiday destinations this time a few weeks earlier, on Saturday, September 22.
The marathon, organised by sports event gurus Total Sport, boasts a "flat, fast and fun" terrain. There are 42.2km, 21.1km, 12km and 6km options, as well as a 2km kids dash.
"We were delighted with the response to our inaugural event, both from participants and the Tauranga community," says founder of Total Sport and the Tauranga International Marathon Aaron Carter.
"This year's course will be slightly different, from Papamoa to The Strand, and will end with a big party at the finish line, not only for runners, but their supporters and the Tauranga community to enjoy. Because of the flat and fast course and the stunning views, it's a bucket list event for seasoned runners as well as an ideal first-time option."
The full marathon starts in the heart of Tauranga's growing seaside suburb, Papamoa.
Runners will speed on a direct course towards Mount Maunganui, along the ocean, before travelling around the Mauao base track, soaking in the views.
They'll run past Pilot Bay then up and over the Tauranga Harbour Bridge and back to the water's edge on the other side.
More views will meet them there as they make their way along the foreshore to Fergusson Park and back. Finally, runners will meander through the Waikareao Eastuary, including the Daisy Hardwick boardwalk, before finishing in the heart of the city centre, where they will be awarded their medal and soak up the celebratory atmosphere at the finish line party.
Tauranga International Marathon is again partnering with Live More Awesome, a non-profit charity and movement dedicated to inspiring, encouraging, informing and finding help for people struggling with their mental health.
Live More Awesome's philosophy is about helping everyone improve their mental health. Their mission is to reinforce that everybody has mental health that needs to be acknowledged and looked after, just like their physical health.
For the first time, the Tauranga International Marathon will also partner with Girls Who Run NZ for the 12km event.
Girls Who Run NZ is a new coaching programme and "tribe" of female Kiwi runners, connecting and inspiring each other to reach their running goals. It was established this year by coach Maree Leith and already has hundreds of participants.
The first woman and man in the Tauranga International Marathon will receive $2000 each, with second place getters nabbing $1000 and third place $500.
In the Half Marathon, the first-placed woman and man will each receive $1000, with second place getters taking out $500 and third $250.
More on SunLive...