'Serious failings' in Kawerau siege operation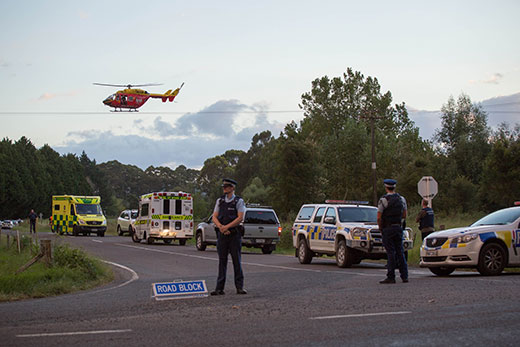 Police have been criticised for the tactical decision-making and control and command exercised in response to shots fired near Kawerau on March 9 2016.
The Independent Police Conduct Authority says the reponse was highly flawed and placed police officers at risk.
The Authority also found that police were justified in shooting at Rhys Warren in the circumstances.
At about 10:50am, the Armed Offenders Squad was called to two adjacent rural properties on Onepu Spring Road in response to a report from police officer that an unidentified person was firing shots at both him and a police-marked spotter aircraft during a cannabis removal operation.
By 1pm, AOS officers moved into position around the two properties and started appealing to any occupants to come out.
After receiving no response, over the next two-and-a-half hours the AOS Commander made a series of tactical decisions that culminated in a team of six officers and a police dog entering a house owned by the family of Rhys Warren in order to arrest any occupant.
Warren was waiting in a bedroom and fired three shots at the advancing officers, seriously injuring three of them.
Three officers fired a total of 46 shots towards Mr Warren as they evacuated the house. Later that afternoon,
Warren shot a fourth officer, who was positioned on a cordon near the house.
Due to the seriousness of what had occurred, the Acting District Commander assumed control and command of the incident from a detective sergeant at the scene.
Senior police staff at Police National Headquarters in Wellington monitored events and made arrangements for specialist tactical resources to travel to the scene to help resolve the incident.
Warren surrendered peacefully to police the following morning. He has since been convicted of two counts of attempted murder, three counts of using a firearm against a law enforcement officer and wounding with intent to cause grievous bodily harm. He has been sentenced to preventive detention.
The Authority has found that the AOS officers should never have entered the Warren family's house, and that there was poor general understanding amongst officers at all levels about how control and command should have operated during different phases of the police response.
The lack of proper oversight was a strong contributing factor to the flawed tactical decisions.
"The three AOS officers who fired at Mr Warren made a lawful decision based on the circumstances that they perceived at the time," says Authority Chair, Judge Colin Doherty.
"They fired to defend themselves and their fellow officers from an imminent threat of death and in order to manage the safe evacuation of wounded officers.
"However, the previous decisions which led the AOS officers to be in this position were highly flawed. Better decision making is likely to have prevented these officers from having to make the decision to use their firearms in the first place," says Colin.
"Just as importantly, it would have prevented the officers from being in a position of considerable risk.
"This incident illustrates the need for police at all levels to have a thorough understanding of control and command, how command structures alter as incidents escalate in seriousness, and the responsibilities attached to key roles within those structures."
Police response to IPCA report on Operation Pencarrow
Police accept the findings of the Independent Police Conduct Authority review of Operation Pencarrow in March 2016.
As police have already publically acknowledged, internal reviews were carried out following this incident with findings and recommendations consistent with the IPCA report released today, says Assistant Commissioner Districts Bill Searle.
As a result police have made a number of changes at both district and national level.
These include:
• More robust planning and oversight of the annual National Cannabis and Crime Operation (NCCO).
The planning, review and approvals processes for this annual operation now involves senior managers at district and national level to ensure risk is minimised and the operation is carried out in best practice.
• Enhanced coordination between the District Command Centres (DCC) and the National Command Coordination Centre (NCCC) to ensure the NCCC supports and coordinate resources beyond the capabilities of the local DCC.
Police are also finalising the Command Centre Operating Guidelines document in consultation with the IPCA.
• Following a successful six month trial in Central District, police are currently rolling out a new Planned Action Risk Assessment tool.
This is a mobile pdf form that staff must complete before carrying out any planned action, specifically including search warrants.
This assessment ensures staff give proper consideration to risks and community impact and plan their actions accordingly.
• There has been a national refresh of AOS training including oversight from Special Tactics Group Commanders.
This has ensured that all squads, including Rotorua and Tauranga AOS, have improved tactical planning, decision making and deployment methods.
• In direct response to this incident police implemented a national policy in August 2016 to ensure all Police dogs have personal issue protective boots and that these are carried and ready for use at all times.
This means dog teams are now able to be deployed more easily at critical incidents.
As well as this, Canterbury AOS are trialling the use of a camera which can be mounted on the police dog's harness while it is searching a building and watched by staff outside the premises.
Police are addressing all of the IPCA's recommendations.
Ultimately, incidents such as Operation Pencarrow are often complex and dynamic, says Bill.
"Circumstances can and do change very quickly and decisions have to be made based on the information available to officers at the time.
"The safety of our staff and members of the public is a strategic and operational priority for police.
"The fact four officers were injured in this incident is of great concern to us.
"The lessons learnt from our own review and the IPCA report into Operation Pencarrow have been carefully considered to ensure we operate in the safest and most effective way to protect both our staff and the community.
"Despite the issues raised by the IPCA, we note that the person responsible for shooting our staff was Rhys Warren who has been sentenced in court to preventive detention."
More on SunLive...