Hairini bus lane cops flack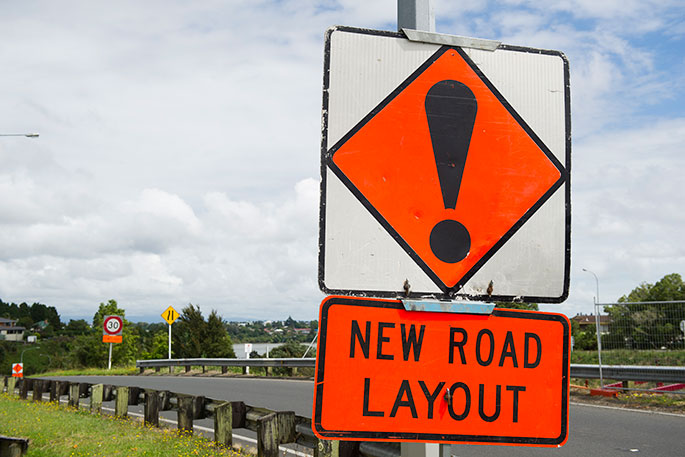 Residents are venting their frustrations over a new dedicated bus lane in Hairini.
The Hairini St and Turret Road bus lane opened Friday July 6, allowing buses to take an uninterrupted trip down Hairini Street and onto the causeway toward the Turret Road bridge.
An Ohauiti resident, who only wishes to be referred to as Andy, says he doesn't agree with it.
"I tried to contact council about it and they told me it wasn't their road. I got referred to NZTA, who diverted me back to council who finally admitted the road is their responsibility.
"They tell me the whole reason behind it all is they want people out of cars and onto buses or bikes.
"Only about two or three per cent of people use buses and they think this is enough to justify blocking a whole lane to other vehicles. It's not good enough," says Andy.
"If they want to get people in buses, they should put all the schoolkids in buses in the morning. You see it during school holidays, there's no traffic and it's a breeze.
"We're paying for all these buses in our rates, and they're all driving around empty. How long is that going to go on for? Why not get vans instead? I don't think I've ever seen a bus in this city at its maximum capacity, so why not downsize."
Andy, who lives on Ohauiti Road, has been told Council are reconsidering allowing a right turn from the Welcome Bay Rd intersection again.
"That's great but still have traffic going the other way too. Make it free, so cars are moving and get the traffic going.
"At the end of the day it's not too much of an inconvenience to me, but it's going to hinder traffic, slow things down and we want to get the roads moving, make it easier for people not harder.
"They say the decision is indefinite, but they might look into putting another road in, at a later time."
Andy says council hasn't given enough thought to other people using the roads.
"It's all been driven by their own ideology. They want to put everyone in buses and on bikes but they haven't thought about how practical that is.
"I'm a small business owner and I can't fit all my gear in a bus. Eighty per cent of businesses in town are the same.
He says his thoughts are echoed by neighbouring residents.
Harini resident Peter Magnussen is another person who has voiced his disapproval.
He says he has been sent two letters.
The first, dated June 25, informed residents Hairini Road would be "closed for a few weeks".
He says this was followed by another, dated July 5, which claimed the road would be "closed for the foreseeable future".
"I sent an email to council asking what date it would be opened, and if it wasn't going to open again, then why not? I'm waiting on a response."
Peter says Hairini residents want the road open.
"I started walking around asking neighbours their opinion; I got seven people saying they want the road open.
"People who live at 1 and 1a Hairini Street can't even legally get out of their house," says Peter. "They have to do an illegal action to get out of their house and there's a camera on the road capturing it all.
"Council have done a lot of stupid things here, but the most recent is that the Welcome Bay Road now has a right-turn, right in the middle of the road.
"We used to always have two lanes, we could park in the middle of everything to come down Hairini Street but now they've made the right-hand lane a right turn onto the Maungatapu roundabout and only one lane going down to Hairini Street.
"You can imagine if three cars are going down Hairini Street, we're going to block the main highway.
"It's very difficult to describe unless you're there experiencing it for yourself."
Tauranga City Council transportation manager Martin Parkes says the bus lane is part of a long-term solution.
"If we're serious about addressing traffic congestion then we need to help make public transport more convenient and reliable.
"The Hairini Street bus lane will allow buses a faster trip into the city. One bus lane on its own won't solve the city's traffic issues, but it's an important piece of the larger puzzle.
"The Bay Of Plenty Regional Council is planning to introduce a new, improved bus service in December 2018. We're supporting this initiative by looking for opportunities to give buses higher priority on the roads.
"We appreciate that it might be hard to see the benefits of bus lanes in the short term, but to improve the efficiency and safety of the transport network, we need to start somewhere."
The proposed build of the lane was announced in May, however a consultation process did not take place.
"The road closure change happened faster than planned because Hairini Street was closed unexpectedly for safety reasons," says Martin. "The NZ Transport Agency and council had to react quickly, not allowing time to consult with the community in the way we would have preferred."
He has confirmed the bus lane is permanent.
"Safety above convenience is our priority. Council and the Transport Agency are monitoring traffic movements and reviewing the access for general traffic down Hairini Street."
The lane is restricted to buses only with motorcyclists and cars using the general traffic lanes. In addition cyclists share an off-road facility with pedestrians.
Anyone driving an unauthorised vehicle on the bus lane is at risk of a $150 fine.
More on SunLive...