Nurses vote to strike on Thursday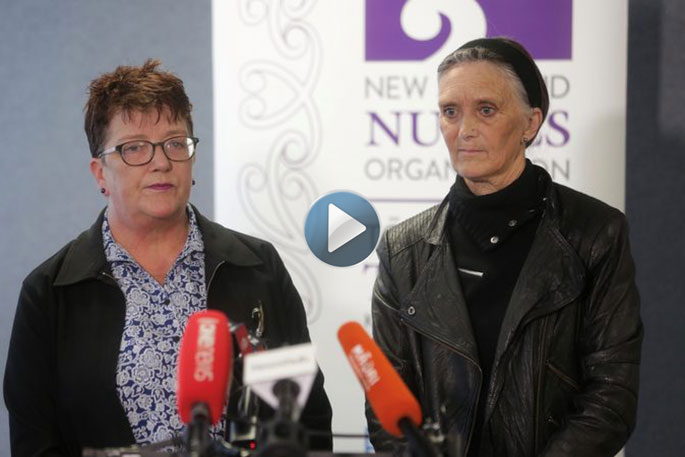 Nurses will strike on Thursday after rejecting the latest pay offer from their district health board employers.
With very high voter turnout at yesterday's ballot, the result of the nurses vote was closer than last time.
Rejecting the offer, a nationwide 24-hour strike is scheduled to begin on Thursday at 7am and will finish at 7am on Friday.
Watch the live presser here:
More than 30,000 New Zealand Nurses Organisation (NZNO) members are involved, says Industrial Services Manager Cee Payne.
Nurses have not gone on strike for 30 years and never under current Life Preserving Services (LPS) agreements designed to ensure patients are safe and well cared for during a strike.
Many staff covered by the DHB Midwifery Multi-Employer Collective Agreement (MECA) have agreed to provide life preserving services over the duration of the strike.
"Life preserving services and contingency plans are coming to completion with the 20 district health boards. We are confident that these will be in place as patient safety and public safety is paramount," says Cee.
While DHBs have requested a reconvening of facilitation, NZNO says it has an obligation to respond without knowing the outcome of the ballot.
The unavailability of additional funding to support an improved offer has led the organisation to conclude that facilitation is not the appropriate forum to address the current difficulties in the DHB /NZNO MECA at this time.
"The issues faced and reported by our members have arisen from a decade of severe underfunding of our public hospitals which have failed to keep pace with growing community need, the ageing population and workforce, and increased costs."
More on SunLive...