Baby killed, child injured in horror crash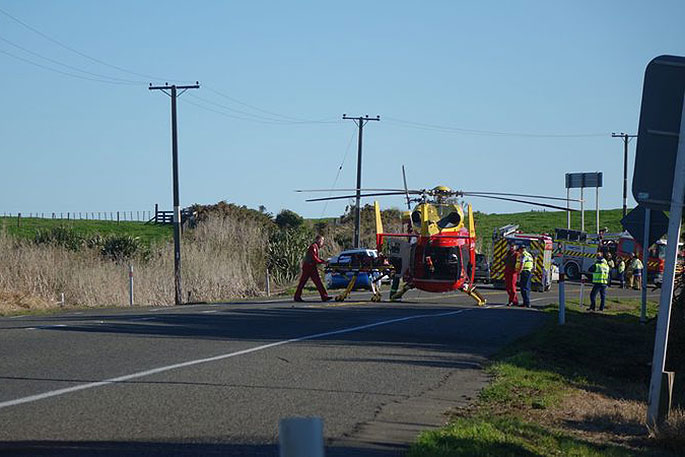 An eight-year-old girl has been flown to Waikato Hospial following a head-on crash which has claimed the lives of six people.
Police have confirmed that a new born baby is among the six people who have died following ahead-on crash on State Highway 3 in the Taranaki area.
Two cars were involved in the crash north of Waverley this morning.
Four adults in a car heading north died at the scene, says road policing manager David White.
"The driver of the second southbound car and a new born baby also died at the scene.
"The front seat passenger of the southbound car, a woman, has been flown to Wellington Hospital with critical injuries."
An eight-year-old girl was also in the southbound car and has been taken to Waikato Hospital.
"The circumstances of the crash are to be determined by the Serious Crash Unit, and while the investigation is in the early stages it is clear the vehicles have impacted head on.
"At the time of the crash the weather was clear and the road was dry, the crash occurred on a slight right hand bend of the road.
"This is a devastating crash and the tragedy will effect a large number of people in our community," says David.
"Our sympathies and condolences go out to the family, friends and loved ones of those involved.
"At the moment our priority is ensuring support is provided to those who need it following this heartbreaking crash.
"The road remains closed."
The crash is just the ninth with five or more fatalities since the turn of the century and the worst since five kiwifruit packers were killed when their car was hit by a logging truck near Katikati in the Bay of Plenty.
The worst crash of recent times was in May 2005, when nine people were killed near Morrinsville when a tourist bus crossed the centreline and collided with a Freight Lines truck.
More on SunLive...