Toxic emissions 'making residents ill'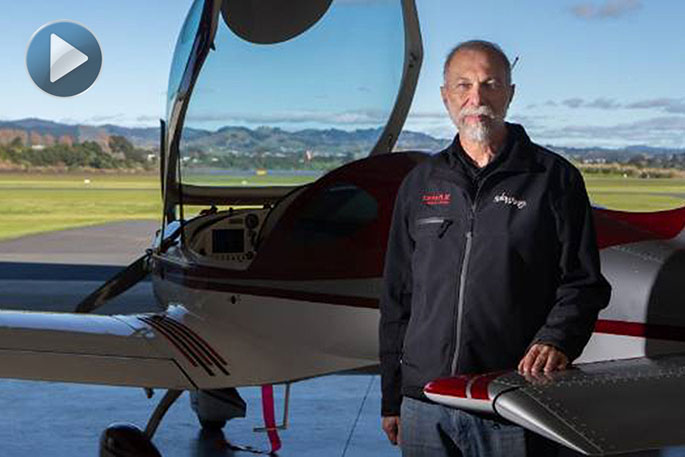 Toxic organic dust coming from a building owned by a controversial former National Party MP is believed to have caused health problems for neighbours, at least two of whom have been hospitalised.
The dust is from stock feed stored at a large warehouse built and owned by Bob Clarkson on Tauranga Airport land.
Bob famously knocked Winston Peters off his throne in Tauranga in 2005, but served only one term in parliament, during which he was dogged by allegations of sexual harassment and his offensive comments about Muslims and gay people.
Known as "Bob the Builder", he owns many of the industrial buildings in Tauranga, including one in Aerodrome Road that is leased by multiple operators to store and process animal feed, including palm kernel.
People who live and work in hangars straight across the road have suffered a range of symptoms over several years, ranging from itchy eyes and sore throats to severe breathing problems.
A public health report dated May 10 and obtained by Stuff concluded that the activities at Bob's building were having adverse health effects on workers and residents because of a lack of effective dust control.
Bob says he's had trouble with a sub-tenant creating dust by loading palm kernel outdoors, but has removed the tenant and it's no longer a problem.
He says people shouldn't live in industrial areas if they don't like dust.
Jim Miller, medical officer of health for Toi Te Ora Public Health, says he is concerned by the report's findings and has met with Bay of Plenty Regional Council and WorkSafe to ask what they will do about it.
"I would like to see this issue addressed promptly."
But people who live, work and store aircraft in the hangars say the council has known about the problem for years and has failed to effectively address it.
"There are some days you can't even see out here, it's like brown smoke," says Skye Sloan, who rents an apartment above a hangar with her partner and has had to start taking medication to deal with her asthma-like symptoms.
Colin Alexander, a pilot who has an aircraft maintenance business, suddenly found last November that he couldn't breathe.
"My diaphragm hurt from trying to pull air into my lungs, because my respiratory passages were closed down," he says.
He was put on high doses of steroids and later diagnosed with organic dust toxic syndrome. The medication caused cataracts, which have required surgery to restore his vision.
"It's changed my entire life."
Colin Loker​, who stores his aircraft in one of the hangars, says he was rushed to hospital about two months ago when he had trouble breathing.
"The problem was something called ABPA [allergic bronchopulmonary aspergillosis], an allergic reaction to an airborne fungus which restricts your airways. I spent a week in Tauranga Hospital."
Bob says dust was causing a problem up until about two years ago, when palm kernel used to be crushed on site, but that no longer happened.
"The [public health] report you're looking at is old fashioned and out of date," he says, adding that council dust readings a couple of years ago were within the permitted range.
However, he admits there was an incident late last year where a transport and stock feed firm was loading palm kernel outside, causing a dust nuisance.
"Every time they'd come on site there was a bloody mess, an argument, they'd upset the neighbours, all sorts of stupid bloody things – I gave them their marching orders."
Bob says he is prepared to listen to complaints and possibly build a wall with netting on top to catch dust, but he has little sympathy for people who chose to live in the hangars.
"If you can't tolerate the noise, smell or dust that's allowed in an industrial area, why would you go there? They should have bought a bloody house in a residential area."
Mark Sherson, a director of RMD Transport, which stores stock feed in the building, scoffs at the residents' claims of health effects.
"They've probably got a cold – a lot of people have a cold at the moment. We employ 50 people and none of them have got health effects from the products that are stored here."
Asked what products were stored on site, he says: "That's for you to find out."
According to the public health report, bulk materials stored at the site include palm kernel, cotton seed, tapioca, dried grains and canola.
The report found that tiny dust particles from such material cause long-term health effects and are potentially cancer causing.
Wayne Ireland, stores operations manager for Nutrinza, which also stores stock feed at the site, says the company has gone to great lengths to stop dust.
"We have our doors closed when we do stock food loading, we put oil into our blends to stop the dust and we put covers over our bins."
Wayne says the tenant that was recently booted out by Clarkson was to blame for the problems.
"We've been here four years and had no issues – they were there a year and there's been endless drama with the dust."
Greg Misson​, who owns a hangar where he stores aircraft, has been writing to the council since 2014 trying to get the dust issue fixed.
He says in dry conditions in particular, dust will blow straight into the hangars and quickly cover everything, corroding aircraft.
He says research clearly shows that dust from organic material can cause serious health problems and it should be stored in silos, not industrial buildings.
Greg says the council had asked the operators to implement a range of measures to mitigate the dust, but that hadn't happened.
"We've had six years of this s... and we want it stopped now."
The complainants met this week with regional councillors and staff.
Councillors Stuart Crosby and Paula Thompson told Stuff they are "very concerned" by what they heard and had asked staff to "explore all options".
The council's compliance manager Stephen Mellor confirmed the council had received 38 dust complaints from the Aerodrome Road area since 2014.
The operators in Bob's building did not require resource consent, he said, but had to avoid "nuisance" dust levels beyond their boundary.
Proposed changes to air quality rules being considered might require bulk cargo handlers to obtain resource consent in future, says Stephen.
He says the council has commissioned independent air quality monitoring at the site twice since 2014, but had not found "robust evidence" rules were being breached, so no abatement notices have been served.
But Colin Alexander, who fears he may not be able to renew his pilot's licence because of his health problems, said scientists he'd called in had confirmed the dust coating his hangar was the same as samples from Bob's building.
He's sick of hearing excuses.
"I just want the dust to stop. This place is contaminated. I'm totally gutted. I cannot believe that somebody else can profit when my team here is exposed to toxic dust. It's not just."
More on SunLive...