Bella Vista call to be made behind closed doors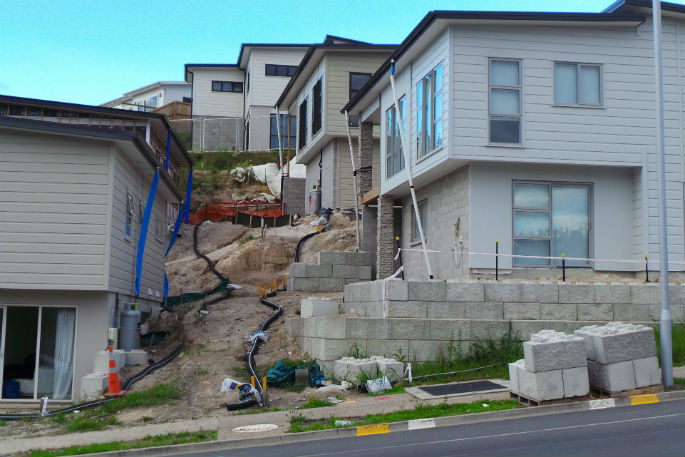 How and why Tauranga City councillors make their call on the future of the Bella Vista homes will not be made public, says council CEO Garry Poole.
Property owners of 21 Bella Vista homes on The Lakes Boulevard and Aneta Way were evacuated from their residences on March 9.
The city council has prevented their re-occupation citing a number of building and land stability issues, despite some of the homes having code of compliance certificates.
The meeting on June 6 will take all day, beginning at 9am when property owners or their representatives will be able to make a 10 minute presentation to councillors.
The public may or may not be excluded from the morning session.
The remainder of the meeting will be conducted in 'public excluded'. This will include the presentation of Mr Paul Heath QC's report via video link at 1pm.
Elected Members will then deliberate and decide on one of the four options
These are:
• Remediation, which will see council pay for issues to be resolved and then recoup the costs from any sale of the properties when they are sold.

• The council to buy all the properties from homeowners and demolish them.

• The council carry out only its statutory functions, complete the assessments, issue notices and provide no further assistance.

• The fourth option involves council fixing the land issues at its own cost.
The Mayor, Chief Executive and General Manager Chief Executive Group will deliver the Council's decision to homeowners in a public excluded meeting at approximately 5pm.
"Homeowners are, and have always been, our priority," says Garry.
"We will share the council decision with them first and then the wider community.
"Public excluded is a usual part of council process and in this situation would be done to protect personal privacy and/or to keep information confidential."
The reasons (pursuant to the Local Government Official Information and Meetings Act 1987) for public excluded are:
• To protect the privacy of natural persons
• To maintain legal professional privilege
• To enable any local authority holding the information to carry on, without prejudice or disadvantage, negotiations, including commercial and industrial negotiations.
More on SunLive...