Mum's heartfelt plea for inclusive education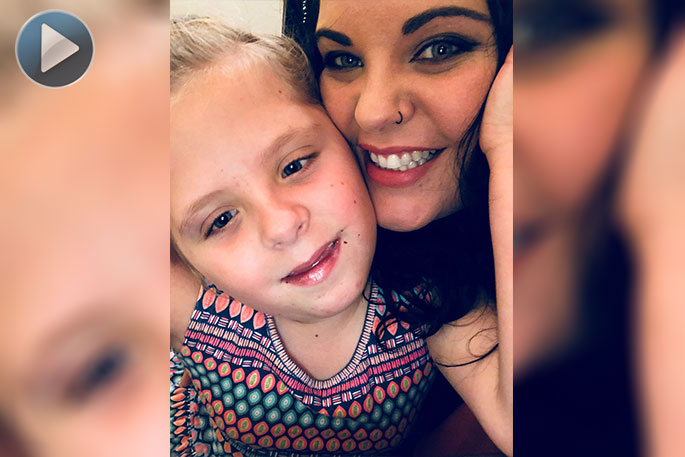 A Bethlehem mum's heartfelt plea to mum-to-be Prime Minister Jacinda Ardern to fix the "broken" funding model for special needs students has struck a chord with parents throughout New Zealand.
Erika Harvey's 7-year-old daughter Piper is autistic and is one of 24 special and high-needs students at Greerton Village School – more than double the number most schools have.
The school is facing a $118,482 funding shortfall this year to cater for these students – a sum it is having to fund from its operational grant instead of long-overdue upgrades of its infrastructure.
Last month Erika wrote an open letter to Jacinda Ardern asking her to fix the funding model which she, and thousands of other parents with children with special needs throughout New Zealand, believe is promoting exclusion of their children from school.
She followed this with a petition and, in the past week, the release of a moving video showing what inclusive education at Greerton Village School looks like.
The school enlisted Erika, a business consultant, to help share its plight.
"Most of what I learned I didn't know, and I have a special needs kid. I wrote the letter hoping to get our pregnant Prime Minister's attention because we have to change this broken funding model," says Erika.
"We've got schools that are actually excluding children because it's too expensive, and they're winning because they get to spend their operational budget on whatever they like.
"Then we've got schools like Greerton Village which are fully inclusive, but are losing out because they can't afford to buy new computers or replace the playground."
The Ministry of Education provides funding for special and high-needs students through the Ongoing Resourcing Scheme (ORS). Around one per cent of students receive this support at any one time and the funding covers services and support such as specialists, teacher aides and consumables that aid learning.
The funding for teacher aides is for a limited number of hours, however, and Greerton Village School has increased the hours of support it offers due to the extreme needs of its students, and a desire to give its "treasures" the best education possible.
It employs 21 externally-funded teacher aides and a further two are funded by the school board. The funding shortfall this year is expected to be $118,482.
There has been a glimmer of hope, however, with high-level Ministry of Education officials from Wellington visiting the school last week to discuss the possibility of the school being involved in a pilot project to look at a new funding model.
Erika presented the video at this meeting, which was attended by both educators and parents of special needs students.
"I wanted them to see exactly how their decisions affect schools and children. These people are making decisions about us but are going home to their normal lives and leaving us to pick up the pieces."
Erika's inbox was "flooded" with emails with stories from other parents around New Zealand after her open letter to Jacinda Ardern was published and some of their comments appear in the video.
"What is happening in our school is happening across the entire country. This is a big problem and I think people need to know about it."
Erika points out that ORS funding only covers children with the most severe learning needs. Many others who suffer from mild autism, dyslexia, dyspraxia and other learning difficulties receive no support at all.
"For me to receive ORS funding I have to write the worst things you can imagine about my daughter. You have to write about their darkest day.
"The main criteria is 'can they feed and toilet themselves and control their behaviour'. The minute your child can open a packet of chips and learn how to wipe herself, she's screwed.
"It's so backward. To me, there is a huge opportunity to help all children with additional learning needs to be contributing members of society, instead of only focusing on the most severe. There are tonnes of children falling through the cracks."
Greerton Village School principal Anne Macintosh says she was "very encouraged" by last week's meeting with the Ministry of Education
"They came receptive and ready to listen. There were no promises made, but we've got a further meeting set down for June 7 to set out our proposal for a pilot scheme.
"We're being innovative and looking at solutions – not necessarily looking for a cash hand-out, but we will need support in the short term.
"We passionately believe in inclusion and these treasures bring so much into our school. Our kids are learning about acceptance, responsiveness, tolerance, compassion and respect. The only rub is the money."
Erika believes Piper is the poster child for what successful inclusion looks like.
"When she first started school at Greerton Village she was non-verbal, violent and always taking off her clothes. My daughter is now a totally different child and that is because she goes to a school that hones in on her skills and is truly inclusive. The difference in her after two years is crazy. They are amazing."
You can read Erika's open letter to Jacinda Ardern here: https://www.piperslove.com/pipers-journey/dearjacinda
More on SunLive...