Community greens to Foodbank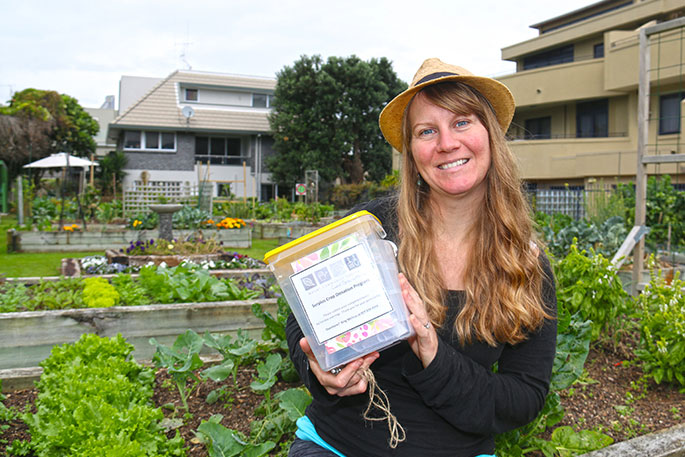 The Mount Maunganui Community Garden is following in the footsteps of the Bayfair Community Garden, with the establishment of a new initiative to provide fresh produce for the local foodbank.
"We recently started a surplus programme," says Mount Community Garden committee member Melissa Cox.
"Our gardeners can elect to donate some of their produce from their personal plot to the Tauranga Community Foodbank."
The Mount Community Garden has recently celebrated its fifth birthday, with a Sunday morning tea and presentation from the Mount Lions Club.
The Mount Lions Club received the District 202 Lions award for the Environment for 2018, because of the work they undertook to establish the garden. Mount Lions club member David Peart presented the award to Mount Community Garden president Lawrie Gibbons.
"One of the crowning glories for our Lions club was to receive, on your behalf at the Lions District Convention, this wonderful award," says David, who has relinquished his own plot at the community garden after five years.
The garden comprises plots made from timber salvaged from the Rena, and has been supported and sponsored by Daltons, Farmlands, Harcourts and Palmers. Now with the garden fully established and producing, the committee felt there was an opportunity to give back to the community in an organised way, from the surplus that some had grown.
"We've already had one pick-up, where Tauranga Community Foodbank came to us and picked up the produce when they were at the Mount," says Melissa.
"We donated five grocery size bags of produce. Everything from roman lettuce to herbs. That was about two weeks ago, and we're going to do that weekly.
"All our gardeners need to do is fill out a simple form, place it in a box at the Mount Community Garden, and then I and some of the other community members harvest it weekly.
"That means the gardeners don't have to come down every time, and then that way we can also donate it fresh.
"We're hoping to follow in the footsteps of some of the other community gardens, to share the wealth that we have here. Bayfair Community Garden has been doing this for nearly 20 years."
"I think everyone involved should be really proud of what we've managed to create," says Anne Ball, founding committee member and a past president of the garden.
"We call this our small slice of paradise. It's been a huge amount of work, but the rewards have been immense."
More on SunLive...