Base track repair call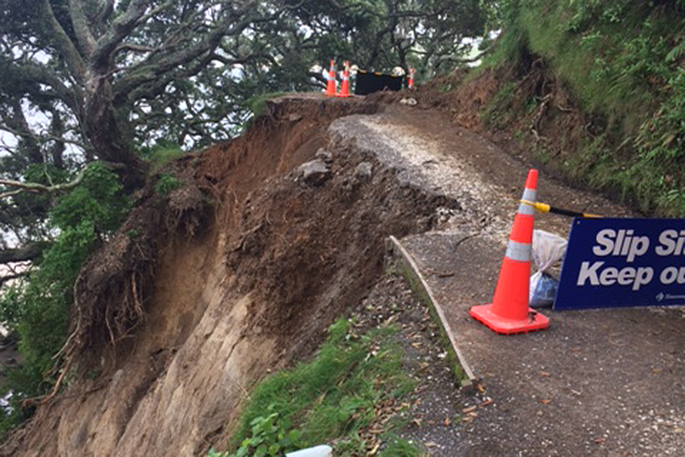 Expressions of interest are being called for suppliers wanting to fix the Mauao base track section taken out by a slip in April 2017.
Tauranga City Council is looking for a supplier to realign the damaged section of the base track.
"We're hoping to start constructing the new piece of track in October, depending on the consenting process," says parks and recreation manager Mark Smith. "If all goes well, we'll have the track rerouted by Christmas.
"Once it's completed, there'll be a much more resilient piece of track that takes walkers along the beach past the statue of Tangaroa, and it'll be fully accessible."
Environmental planning and design consultancy Boffa Miskell, alongside engineering consultancy GHD, is designing the new section of track. Council is now accepting registrations of interest for the build phase of the project at www.tenderlink.com/tauranga
The consenting process will be run in parallel, with the project team expecting to apply for a resource consent in early June. The consent will be notified.
In April 2017, rainfall during ex-Cyclone Debbie caused a large slip on the base track. A temporary set of stairs has been put in place to enable people continue to walk around the maunga. However, a permanent, accessible solution is needed. The decision was made in June of last year to reroute a 250-metre section of the track to avoid slip-prone slopes.
Tauranga City Council has since approved funding to repair the large slip. The project is expected to cost up to $2.2 million, which will come from Council's risk reserve.
"We appreciate this is a lot of money, however the more we looked into the slip, the more it became apparent that there is a stretch of about 250m of track which is built on a relic slip," says Mark.
The proposed route of the replacement track. Photo: Supplied.
"Generally, if an area has slipped before it will slip again – it's just a matter of when. There's already a second, smaller slip just east of the large one.
"Mauao is a taonga of immeasurable value, a 'must do' for visitors and an important recreational resource for the people of our city."
The council needs a long-term, sustainable solution that preserves its natural landscape.
"If we repair just the 14 metre section that's damaged right now, we'll be paying for repairs every time there's another slip in the area. We would also have to reshape part of the mountain, potentially more than once."
The new track will run along the beach, at three metres above sea level. It will offer visitors easier access to the water, and a view of the water and the statue of Tangaroa.
It will be fully wheelchair accessible.
More on SunLive...