A royal affair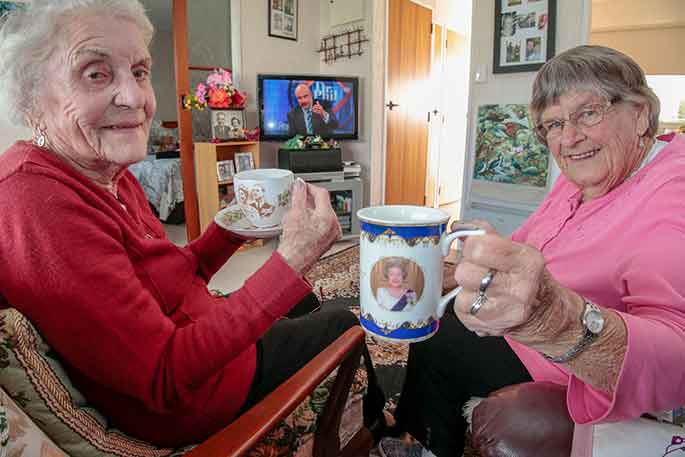 There might be the tinkling of a wine glass coming from Nonie Teddy's villa at the Mt Maunganui RSA Village tonight. It wouldn't normally happen, not at that hour.
"I might have a little red to toast their happiness. They are obviously very much in love" says Noni. "I am just thinking about the wine at this stage."
But if she does, she will be toasting Prince Harry and Meghan Markle, who marry at Windsor Castle in Berkshire tonight. More than 100,000 people are in the little English town for the event.
Nonie won't be alone having that wine – all the pubs in England and wales have special dispensation to stay open until 1am on the strength of the wedding.
Nonie's a royalist. "I think the Queen has done a very good job. And she and Prince Philip have been happy all the years they've been married." And that's 71 years.
Nonie and her neighbour Elva Humphrey will be staying up to midnight for the royal wedding – joining an international television audience expected to exceed two billion people. But she says Elva might nod off – but never mind.
"I always felt sorry for Harry – losing his Mum and everything that went on around that. I think he deserves some happiness."
Then some cynic on breakfast television this morning predicted the marriage wouldn't last longer than six months.
"That's the media for you – even though I am talking to one of them. I hope the marriage will last forever and show the media what it's all about."
Regardless it's going to be a lovely Saturday night in Noni's unit as a royal watching unfolds.
In Gate Pa there is high excitement. Just as there was on the night Princess Di got married.
"I think the whole world is excited, because it's such a wonderful, wonderful thing," says Yvette Lamare, another royalist.
"It's so good to have some happiness, to have a marriage because a marriage is such a beautiful thing. It's a celebration of love."
Yvette says Harry and Meghan are a beautiful couple who will have "the spunkiest children on earth".
"Harry's a very attractive man."
And the American divorcee Meghan Markle? "Well what about our own Prime Minister, pregnant and unmarried?" says Yvette.
Yvette's not such a massive fan of neither William nor Harry. "I am just excited because it's Princess Di's son."
But she too will be glued to the television tomorrow night.
While they're waiting for the "I do's" Noni and Yvette might like to ponder some of the numbers associated with the nuptials wedding - three is the number of diamonds in Meghan's ring, 2640 is the number of guests, $1.2 million is the cost of the wedding, 28,000 is the number of canapes ordered, 40 luxury mobile toilets at the castle, 5000 police, 3.35km is the length of the wedding procession route, and the 5901 is all the other people expected to marry in England on the same day.
More on SunLive...