Homeless use cooking to get ahead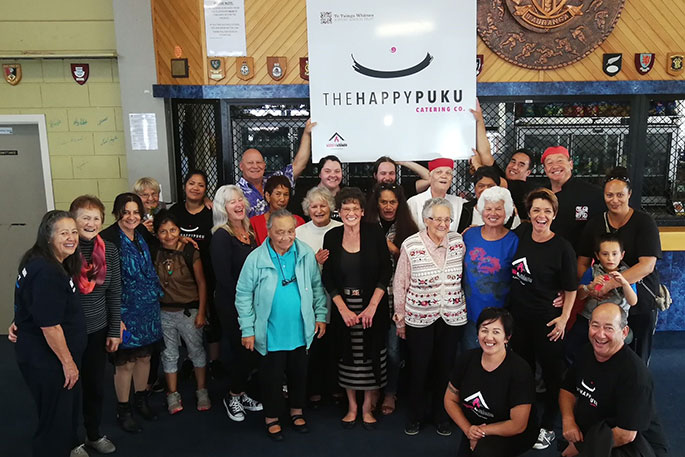 Homeless mothers from around the region are leaving the streets and putting on aprons, as part of a programme hoping to reconnect them within their own community.
It's one of many run by Te Tuinga Whanau and has resulted in the establishment of Happy Puku Catering - a company run predominantly by homeless mothers.
Te Tuinga Whanau CEO Tommy Wilson says the women have recently made their debut within the community.
"Happy Puku Catering is something we've set up with Te Tuinga Whanau. These ladies have recently cooked a kai for our kaumatua as one of their first catering jobs, and we all had a really nice dinner.
"We needed a way to generate income to keep the trust going, so we thought we'd open up a catering company and train these women how to cook.
"It was also a way where they could gain employment at the same time. We're now putting it out there to the public," says Tommy.
"It's a blend between French and Maori cuisine and by supporting us, you can support the community."
Tommy says the women who are selected for the programme are within some of 40 families who are in emergency housing or in motels around Tauranga.
The women are supported and trained by head chef Stephen Wilson, alongside many other Tauranga agencies.
"All of the mothers from these families go through what we call a 'Warrant of Fitness' programme, which basically teaches them how to become good tenants. We teach them how to cook good kai and how to budget.
"Most of the mothers we meet either come from violent relationships or gang backgrounds," says Tommy.
"They have come to Tauranga to get away from that way of living, and are wanting to put their kids into a safe warm home.
"What they cook as part of the Happy Puku Catering team is what they have learnt to cook for their families in this programme.
"We also try to teach the women who are a part of this programme they don't have to get everything from a supermarket. We teach them how to gather and forage for food."
Tommy says at their recent dinner, many women shared their stories with the kaumatua they catered for.
"One woman who shared her story said her two children had been in six schools in five years.
"Now that she's engaged in our programmes, her children have been going to Gate Pa School for more than a year, she's had her own place for about six months and she has employment with Happy Puku."
Tommy says the programme is a great way to teach practical life skills.
"It's great teaching these families skills like this because it shows them how to be good tenants.
"We have a saying that goes 'hands that serve are holier than lips that pray' which highlights how it's good for these mothers to serve others. They're used to hand-outs and food parcels, but this is an opportunity for them to give back.
"Nine times out of ten we take them to real estate agents after they've been through our programme – who were the ones kicking them out in the first place for being poor tenants –and they end up taking them back in because they see the changes they've made.
"This is how you take care of homelessness. You reconnect people with what they are disconnected with."
More on SunLive...