Young actor loses hair for musical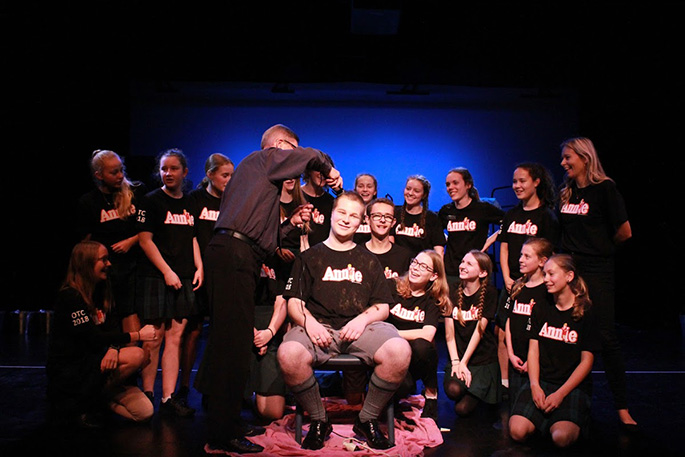 It's something many adult actors would be reluctant to do, but Otumoetai College student Bailey Hocking is showing his commitment to a role by shaving his head.
The Year 11 student is playing billionaire Oliver 'Daddy' Warbucks in the school's production of 'Annie', which opens at Baycourt on Wednesday May 23.
"Annie is an 11-year-old orphan who is taken in by 'Daddy' Warbucks, who realises he loves this child and decides to adopt her. It's the story of how these two orphans from different sides of society come together," he says.
Bailey, who's never shaved his head before, says the character is typically played as bald, and he's determined to keep to that tradition.
"I think it will add an authenticity and realness to the role. I'm not sure how my family feel about me losing my hair, but they appreciate it's for a good cause too."
He's also using it as an opportunity to raise money and awareness for the six New Zealanders who are diagnosed with blood cancer or related conditions every day. He is doing this through Leukaemia and Blood Cancer New Zealand's annual Shave for a Cure initiative. Donations can be made on the Shave for a Cure website.
Director and vocal director Petrina Chisholm is directing the school musical for the first time, and says she's always wanted to do 'Annie'.
"I love the show. There a lot of well-known songs, but it also has a high number of roles in the cast for children."
She says there will be 59 students on stage in the cast, and more than 50 in the band and backstage crew combined.
"We also have a real dog. He's been coming along to rehearsals and is stage-trained now, and I think the audience will love him."
She says Bailey has her full support in what he's doing, and says it's for the right reasons.
"He is the most amazing kid, and is mature beyond his years. For a Year 11 student to be so thoughtful and empathetic is worth mentioning. It is kids like him that remind teachers of why we do the job we do."
Theatregoers can catch 'Annie' at Baycourt from May 23-26.
More on SunLive...