Tauranga teen premieres third film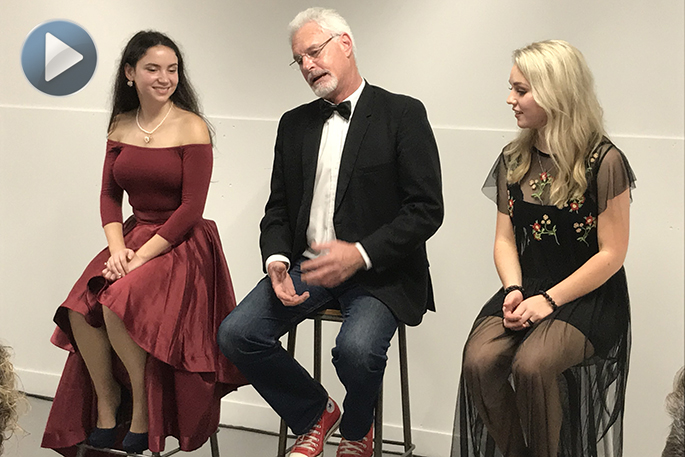 Click the image above to watch the video
If you haven't read her name at the end of the credits yet, where have you been?
Young Tauranga filmmaker, Rose McMahon the creator of Twinkling Bat Films premiered her third short film last night.
The 17-year-old writer and director of Twinkling Bat Films screened her short film 'Once More with Muchness' at the Basestation on 148 Durham where more than 100 people attended.
Once More with Muchness is about a girl who uses her imagination to create real life, and through her eyes the audience sees a fantasy world much like Alice and Wonderland.
"I've always loved Alice and Wonderland and I wanted to do a film that portrayed characters like the Mad Hatter and the rabbit in real life," says Rose.
"When I was writing the script I was just playing around, but I read it out to my mum and she cried and said I had to make it into a film, so I did."
Phoenix Cross, Rose McMahon and Lilly Rota, 7.
She says while filming she has been able to see improvements in the way she writes and directs.
"Now if I look at my first short film Implications of Imagination-it's a fantastic film- but I just watch it and think 'Oh my god, there's a problem there, there and there' and the more things I make the less problems I see.
"I'm still quite nit-picky, but I'm proud that the cast and crew who have supported me through the bad and the good."
She has always loved film and the arts and when she was 11 started my own photography business, which led to working as a still photographer on a film being made in the Bay.
That made her realise film production is where she wants to be, and she launched her own production company in October 2016.
Now having completed three short films Implications of Imagination and Bleach, she is now branching out to a web series.
"The next thing that's already under way, is a seven piece web series about LGBT youth, inspired by real life stories-It's about youth and it's told by youth," she says.
"I'm looking forward to the challenge."
More on SunLive...