Bay skaters in need of forever home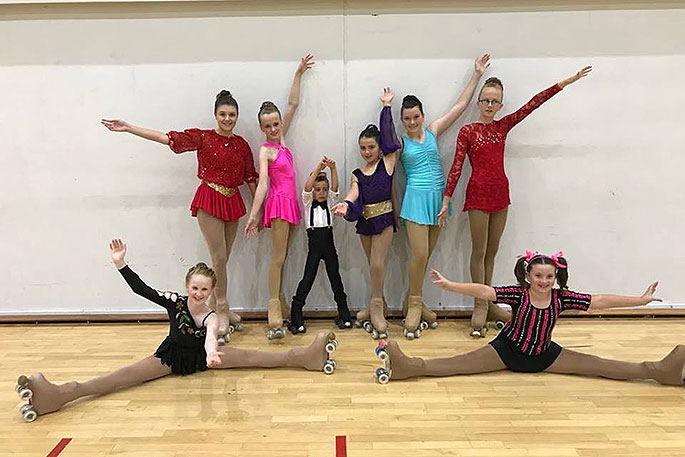 They're bringing home medals, about to send three skaters off to nationals in July and yet, Tauranga City Roller Skating Club is still in need of a facility to call their own.
Club president Stacey Ellis says without this facility, the club is struggling to keep up with ever-growing numbers.
"We have around 30 members in our club, alongside a lot of non-skating members.
"We've been established just under a year, skating at various Bay Venues facilities. We're bouncing between those venues at the moment and we're really struggling for hall hire.
"There's so much happening in the community, from indoor bowls to basketball, that there's just no time left for us to book them out."
Stacey says the club is putting forward a council submission to get Memorial Park or the Gate Pa Bowling Club done up as potential a club premise.
Emma Bailey, 11, at an area competition.
"We're putting through a proposal about how these two locations can be developed to be more accommodating to the type of activities we do."
She says the current club is a revival of what used to be.
"Initially there was a Tauranga roller skating club based at the Memorial Park skating rink many years ago.
"Through lack of interest the club disappeared, however now roller skating is popular again we've reformed it.
"Our coach was actually one of the original members of this club, she competed nationally and internationally. She has still been skating this whole time but under the radar."
Stacey says the team continues to blossom.
"We've always had a smaller competition team. Last year we only had about three kids in that team, but now we've blossomed out and we have a heap of competition skaters.
"We did regionals in early April, taking up a large team and come back with multiple placings.
"We've also just been to areas with a team of only five skaters. It's at this competition where if you place really well you qualify for nationals which is in July in Wanganui," says Stacey.
Hannah Lines, 8, at regionals.
"We were so successful during the area competition. Our skaters ranged from about eight-50 years old.
"Some of the kids placed really well however a lot of them were in grades which don't qualify for nationals, but they still did really well."
The skating competition consists of three fields including dance, figures and freestyle.
"It was spread over two days so it was hard, but of the five skaters who brought home medals they were predominantly gold.
"Considering we were up against Auckland, Hamilton and Rotorua teams we actually placed really well for a smaller team."
A total of three skaters are now heading to nationals in Wanganui in July, says Stacey.
She says the skaters are well-supported by the community, and this is growing for the sport and for their local club.
"There's been an increase in roller discos, skate schools, speed skating demonstrations and there has been a lot of skaters out in the community getting themselves known.
"Alongside this a lot of people have approached us in the community, but until we have somewhere to call our own it's really difficult to cater to this interest.
"We'd definitely like to have a permanent location, because once we do this we'll really have a chance to engage with the community and get ourselves better known.
"People will be able to come and see what we do, if they've skated before they'll be able to get back into it. We really want to be able to offer that."
For more information on the club and to keep up to date with the teams visit their Facebook page.
Mackenna Ellis, 10, at regionals.
More on SunLive...