New recruit excited about future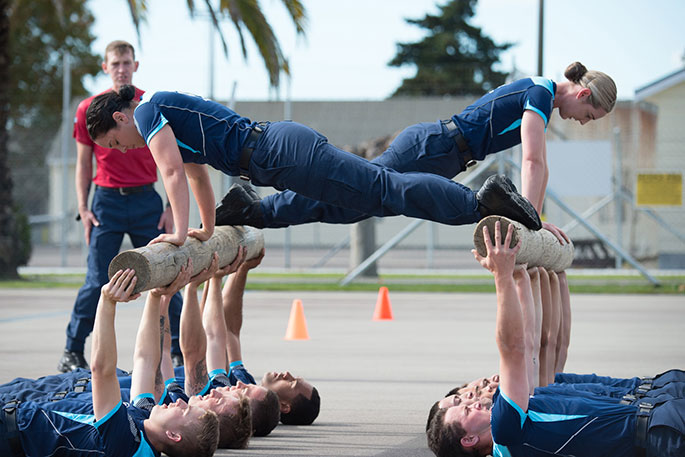 Being able to help people in need is the motivation behind Aircraftman Mikaela Jefferson's plan to become a Royal New Zealand Air Force helicopter loadmaster.
"There's search and rescue and I think I would just love helping people. The loadmasters go to natural disaster areas and get to help people out. And helicopters are awesome," she says.
Originally from Hamilton, Aircraftman Jefferson is one of the latest graduates to complete the RNZAF recruit course.
Now she will begin her initial trade in logistics, before applying for a loadmaster role.
Recently she marched out in front of friends and family on the parade grounds at Base Woodbourne alongside her 53 colleagues. Marking the occasion were two T-6C Texan II aircraft, which performed a flypast over the ceremony.
Aircraftman Jefferson excelled at the physical challenges thrown at her during the course and at the ceremony was presented with the Pat Goddard Memorial Trophy, given to the best female recruit in Physical Education and Recreational Training.
Graduating was a significant accomplishment, she says.
"We've finally achieved what we have been working towards for 13 weeks – all that hard work and sometimes it felt like it was never going to end, but now we've finally made it."
Aircraftman Mikaela Jefferson during the recruit course March Out at RNZAF Base Woodbourne.
A future in the services had always been on the cards for Aircraftman Jefferson, who looked towards a career in either the RNZAF or New Zealand Police. However, after meeting her partner, an Air Force Technician, she was persuaded to take a shot with the military.
The course had its challenges, with the toughest on exercise at Dip Flat at the base of the St Arnaud Range in Marlborough, says Aircraftman Jefferson.
"We were soaking wet, cold, doing nightshifts and very, very tired, and just having the mental strength to push through was the most challenging.
"But we all did and I think it comes down to teamwork – having your mates there to help you push through."
More on SunLive...