Turning a sow's ear into a show garden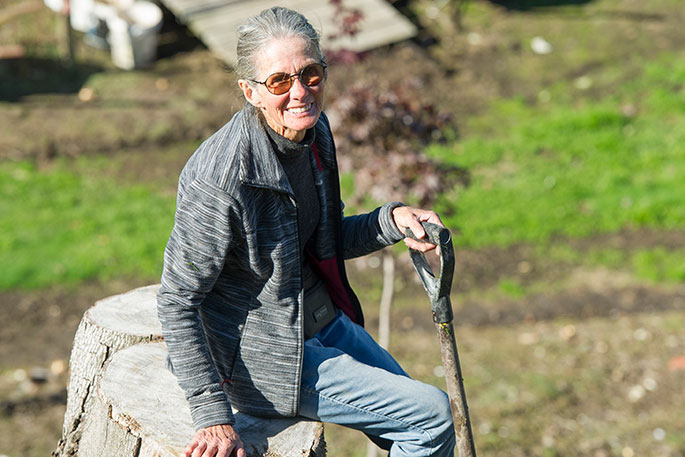 It was Gael Blaymires' dad who unwittingly drove her out into the garden – a sprawling wasteland, as she calls it, in King Street behind the Z petrol station on mainstreet Te Puke.
But it's a wasteland the fairies and nature, under direction from Gael and her well-worn spade, will transform into a "magical" showpiece for the Garden and Art Festival in mid-November.
"I just think of the fairies and what they would like – and we know they like circles," says Gael. "And they like mounds." She erupts with laughter because she doesn't actually believe in fairies. "People will think I am nuts." But all creatives draw inspiration from something or somewhere.
And there are circles in Gael's wasteland – lots of them. And mounds – lots of them too. One sprouting a lonely gerbora, but that's another story.
As a schoolgirl Gael was a creative, and saw herself at Ilam Art School. So did her Tauranga College art teacher Mrs Jarman, who was prepared to give her private tuition to fulfill her dreams.
But her Dad didn't envisage his daughter at art school. He clobbered the idea – a waste of money, he thought. The thinking at the time was that girls should be nurses or teachers. "Or married," says Gael, "because if you weren't married by 20 you were considered to be on the shelf." So Gael found herself a nice sheep farmer.
That may have fulfilled her father's expectations, but there was still the outstanding matter of those unrequited creative urges. So the garden became this artist's canvas – a little garden at the back of the family cottage on Maniatutu Road in Pongakawa.
After the "little garden", the miniature garden, the artist moved onto larger works – two-and-a-half hectares. In between times, she fitted in a family of six kids, a farmer and farming.
"It was wonderful," she says. "You could get out in the fresh air." And the children would come outside and play while the artist was at work. Then they moved into the Papamoa Hills where Gael began her opus – an eight-hectare garden.
"The garden is just a way of expressing myself. It is my happy place."
The late Daisy Hardwick – the first lady of Tauranga gardening – put it aptly. "She said she had sap in her veins," says Gael. Well, it must be common complaint. And the only cure? Even more loam behind the finger nails.
It could be in the name – her grandfather was Swedish. His name was Blad, translated meaning a leaf.
"The garden's such an immense satisfaction and joy – seeing a mess and clearing it, turning a wasteland into something magical, creating something beautiful." Like painting a picture, writing a poem, composing music.
And she's at her canvas every day – up at day break and in the garden by 7.30am. There'll be a granny nap and dog walks in between, but only the weather or night fall will drive her inside. And even when inside, she will be thinking of outside.
"In the middle of the night I will wake up with an idea, and I can't wait until day break to get outside and get it done."
Gael Blaymires – a tiny, four foot something, 76 turning 77-year-old package of sinew and bone, a wispish woman with oodles of attitude and presence. She doesn't quite fit the image of a farmer's wife, singlehandedly breaking in three acres or 1.2 hectares of land spadeful by spadeful.
"Were you expecting an Amazon?"
It's just difficult imagining her heaving bags of compost onto one of her wheelbarrows. "It's amazing what you can do if you think about it and try."
Gael's garden is split by a steep escarpment – a zig zag path makes it negotiable. The septuagenarian takes the quick, direct but not so easy route straight up the long steep bank. Strong, fit, able and willing.
"The garden can take years off you," she says. "But on another day I can feel 106."
Two years of toil has seen stands of poplars dropped and removed and a tip full of engines and car parts dug up and removed. A lot of work to get to the point of a barren landscape.
"It's interesting right at the beginning when the garden is just bare bones. Then, as the years go by, the plants will spill over and it will develop another dimension. But the garden always tells you what to do. Nature and the lay of the land is in total control.
"If you are in the garden and you're working with the soil and the growing conditions, you forget about plants you like and choose only what will grow in that area. See, the garden decides and it's amazing how it evolves."
And the garden decided on the planting of between 60,000 and 70,000 bulbs. Come spring, as Wordsworth described it, the escarpment will explode in "a crowd, a host of golden daffodils, beside the pond (which still has to be built), beneath the trees, fluttering and dancing in the breeze."
Too early for the Garden and Arts Festival, Gael's wasteland will very much be a work in progress In November, but she also promises it will be very different. And there will be other surprises.
So when will she be able to sit back on the deck of the historic kauri villa she had uplifted and moved a few feet one way and a few feet the other to accommodate another garden, and say to herself the job is done?
"Never," she says. "Trees grow, they change, they die, some things will do what others won't. I love that – it's never ending. It will never end."
Some tips from someone who has been gardening for more than half-a-century, and should know: First, don't over manicure. That's not how nature intended gardens.
Be careful what you plant – it can't just be what you like and there are plants for places. Simplicity is the essence – don't overplant.
The spade is like an extra limb for Gael Blaymires. But the blade is perhaps only half the size it should be. "I wear them out – I don't know how many spades I have worn out." How can a slip of a woman wear out a steel garden spade?
Now she's angsty about the lawns. They need doing. When The Weekend Sun leaves she will hook into them. Only takes a couple of hours, then she can get back in her "wasteland."
More on SunLive...