REVIEW: A tale as old as time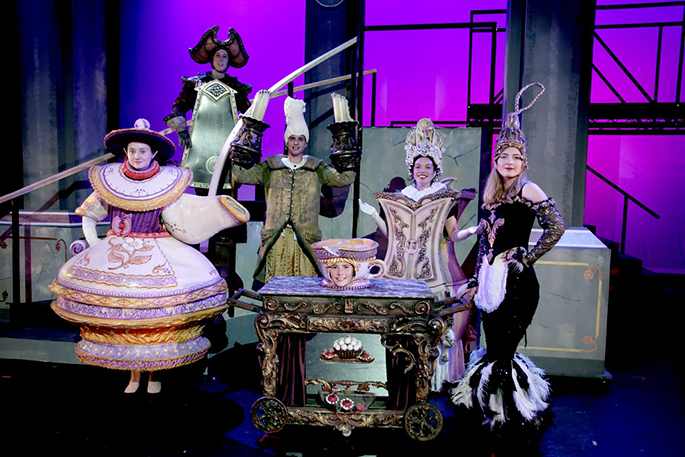 A couple of weeks ago a chap wrote an op-ed for Stuff labelling Tauranga a 'cultural wasteland', principally because the majority of those residents who could be bothered voting in the museum referendum rejected the proposal.
Now, while a city of Tauranga's size and history should have a museum, the absence of one certainly doesn't mean we're lacking in culture.
Take Friday night, for instance, which I spent at Baycourt enjoying the Tauranga Girls' and Boys' Colleges production of 'Beauty and the Beast'.
It's been a while since I've seen a high school musical, and I admit I went in with some low expectations – after all, these are only teenagers, right? We would be in for a night of subpar acting and singing; a confirmation that our city is but a piece of old tinfoil next to that glittering cultural gem that is Auckland.
Well, I was dead wrong.
From the opening scene revealing the origins of the Beast, the audience was taken on a theatrical journey through songs and scenes that many would have recognised from the Disney film on which the production is based.
The sets, the costumes, and the lighting choices stood out as among the most professional and spectacular I have seen on stage, in particular when we came to the Beast's castle and were introduced to his servants, each of whom were gradually transforming into household objects (clock, candle, teapot, feather duster, etc).
Cogsworth (half man, half clock) had a swinging pendulum inside his chest! The half woman, half wardrobe could open up her drawers and pull out clothes! It's little details like this that brought the magic of the show to life.
Among the cast were some talented actors and incredible singers, too. Belle (Shennazar Sta Lucia) sang her numbers flawlessly and truly conveyed the depth of her character well – from being an independent woman, to doting daughter, to defiant captive, and then finally loving companion, of the Beast.
It did not feel as if the Beast (George Hiku) was on stage as much as he should have been, considering he was one of the titular characters. But when he did appear we saw clearly his transformation from being savage and inhospitable, to someone so caring he would not even fight back against an enemy. And when he sang, it was like hearing something off Broadway – truly the best voice of the night.
Congratulations should also go to Gaston (Fletcher Oxford), the chauvinistic 'ladies man' who wooed and was rejected by Belle. He was played as a character possessing both massive confidence and zero charm – a very difficult feat to manage, but experienced thespian Fletcher really nailed it. Great singing, too – every word was crystal clear.
It would be remiss not to acknowledge the sterling efforts of the household servants/objects in the Beast's castle – Mrs Potts (Morgan Barrimore), Cogsworth (Toby Langon), Lumiere (Jack McManaway), Babette (Sophie Webster), Wardrobe (Shyanne Erueti), and little Chip the teacup (Jacques Van Risvelt) – who formed a colourful 'mini-cast' of their own. Mrs Potts' beautiful rendition of the title song was one of the highlights of the night.
The dancing, choreographed by Laura Mansell, was also of a high standard and had variety, from the rousing, mug-clinking pub number with Gaston to the acrobatic, ballerina-like wolves in the forest, it was a visual feast.
Director Toni Henderson has brought together a number of elements to create the first-class production, including not only the large number of students on stage, but those working backstage (and the eight gargoyles who remained on stage for much of the show, and who did an excellent job of seamlessly moving the set around). Her extensive directorial experience means nothing in this show is out of place, and if this school production is anything to go by, Stage Right Trust's upcoming season of 'Shrek: The Musical' in September (which Toni will also be directing) should be an equally fantastic spectacle.
If there was one quibble about the evening, it was the microphones. It's common now for actors to have their own mics, which, while discreet, are so flimsy as to limit certain movements (no touching of the face) and can crackle and even cease operating if enough sweat gets on them. There were a couple of those moments during the show, but fortunately they were few and far between.
If you missed the short season of 'Beauty and the Beast' (May 9-12), don't fret, because Otumoetai College will be staging 'Annie' at Baycourt from May 23-26.
Yes, that's right, two fantastic musicals in Tauranga in the same month. Some wasteland, huh?
More on SunLive...