Keen knitters donate to kids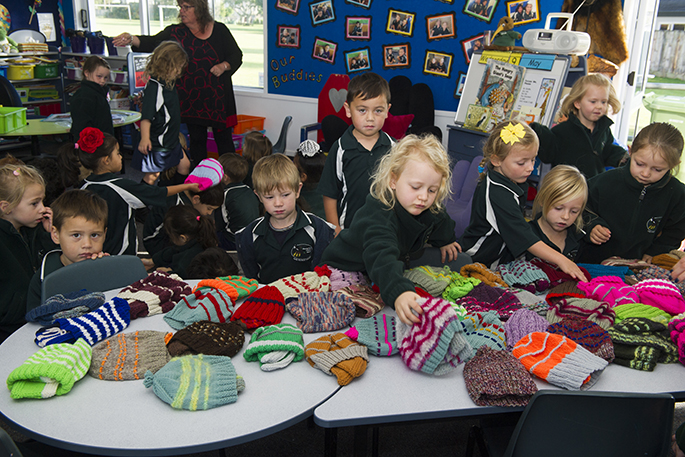 The women who call themselves the Dainty Ladies have knitted up a storm for Maungatapu Primary School children just in time for winter.
Five women, Monica Altena, Pat Egerton, Valda Saunders, Verna Griffin and Betty Higgins have donated around 70 sets of matching slippers and beanies to new entrants at Maungatapu Primary School.
Room 23 new entrants Maungatapu Primary School teacher Cathy Hardaker says the children were so excited to receive the knitted items from the women.
"We knew that they get together and do their knitting every Monday, but they usually gift us with all their recyclables like cereal boxes and yoghurt pots, which is exciting enough for the kids, because they can make things out of them.
"But then just recently they invited us around to one of their meetings in the holidays and that's when they presented me with these gifts to give to the kids."
"The beanies and slippers are just amazing, the children loved choosing their favourite ones, and wore them all day even though it was warm," says Cathy.
All Maungatapu Primary School pupils are required to wear a school uniform, but Cathy says the knitted slippers and beanies will help keep the kids warm during classroom hours.
"The knitted slippers and beanies will keep the kids warm in class instead of wearing their wet shoes in winter.
"Most of them are the perfect fit for the new entrants kids, but there are some big ones that we will dish out to the bigger kids."
The Dainty Ladies group formed in January after Ohauiti Women's Institute and the Women Enjoying Time Together Club closed down.
The five women meet every Monday at 6 Wickham Place to talk, work, reminisce and enjoy a few hours together.
As well as donating knitted items to Maungatapu Primary School, they also donate to other schools and organisations like Tauranga Hospital and Seaman's Mission.
More on SunLive...