Wet weekend for the Bay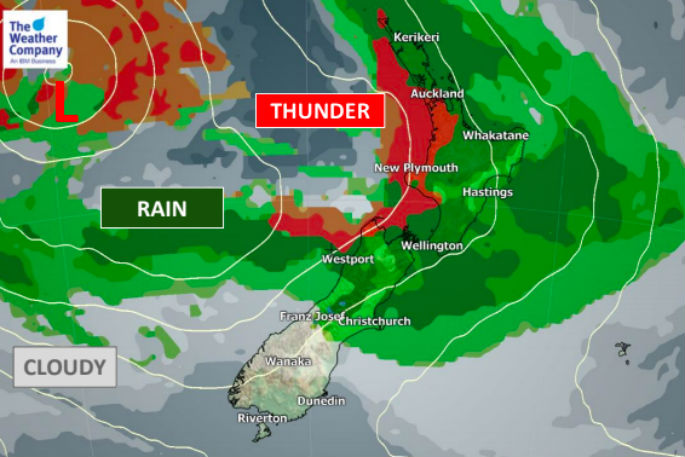 Rain in the Bay of Plenty and the Gisborne ranges may reach warning levels over Sunday and Monday, MetService states this afternoon.
There is moderate confidence of rain reaching warning criteria over the North Island from Northland to Taranaki and the central high country, including Coromandel Peninsula on Sunday.
The rain comes from a complex low pressure system over the western Tasman Sea that is expected to maintain a moist north to northeast flow over much of the country.
The low should then move across the country during Tuesday and early Wednesday, followed by southwesterly flow late Wednesday.
The rain will be sub-tropical in nature says Philip Duncan from Weatherwatch. It will be a mix of drizzly spells but also very heavy falls.
"Due to the slow moving nature of everything these rain bands could cause localised flooding. It will be warmer than average too," Philip.
"Generally speaking this weekend the nor'west flow coming out of the storm near Australia plus the sub-tropical north to north east flow coming from the departing high will be meeting over the North Island or near it - some of the heaviest falls may be just offshore.
"The actual storm itself near Australia won't even reach New Zealand until the end of Tuesday and likely cross the country on Wednesday - so the rain over the next few days is a bit of a precursor."
New Zealand lies halfway between the centre of this low near Australia and the large high to the east.
New Zealand highlights
• A small but potent low crosses the lower South Island on Friday afternoon bringing a burst of heavy rain which will spillover into Otago and Southland for a time, and some brief gales.

• Rain in many parts of northern and western New Zealand next three to five days with heaviest rain in the upper North Island at this stage.

• Warm and humid air will also flow ahead of the low pressure system producing *isolated* thunderstorms.

• Gale force winds will also be possible in coastal areas, mainly in the Cook Strait area.

• The small low approaching the South Island today will clear off tonight and a small high will in fact return and cover over the South Island tomorrow.

• Sunshine will return in some areas of the South Island, but the trough will stay in the North Island bringing rain to the northern half on Saturday and further down the eastern side on Sunday.

• On Sunday rain may be heavier, especially in the upper North Island but some of the worst rain may be offshore - so one to monitor.
Tauranga can also expect northwesterly winds with average wind speeds today about 19-20kmh, but easing Saturday.
More on SunLive...