Weather delays bridge work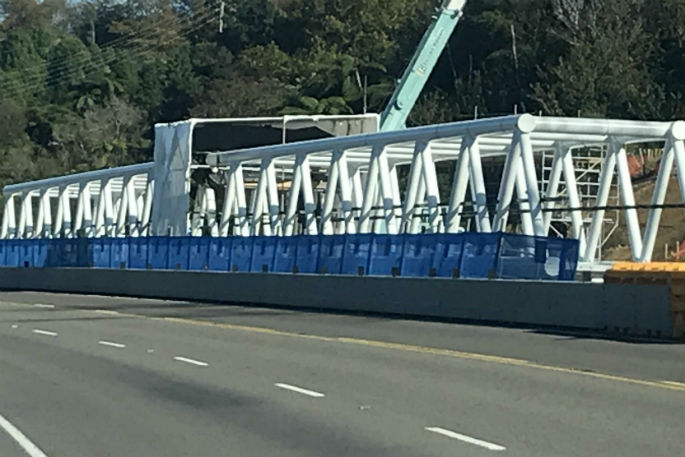 Expected heavy rain over the weekend has delayed lifting the 72m long bridge span into place across the Takitimu Drive toll road.
The closure of the highway originally scheduled for Saturday night is now going to take place next weekend, on May 19, says the New Zealand Transport Agency today.
The closure will now take place from Saturday May 19 6pm to Sunday May 20 8am, weather permitting. A short detour will be in place. The detour is suitable for heavy vehicles.
The 200 tonne bridge is expected to be opened to the public at the end of June.
The span costs $1.6 million. It was delivered to the site in two separate pieces has been welded together onsite prior to the lift, says Tauranga City Council communications advisor Marcel Currin.
"The bridge design has had extensive input from Tauranga City Council, Ngai Tamarawaho and the NZ Transport Agency," says Marcel.
"The design includes decorative concrete piers/decking and a timber handrail that that will emulate an eel (tuna) swimming up the Kopurererua Stream. Decorative timber bollards and other features will be erected around the bridge next financial year."
The total project including a second, smaller access bridge is worth about $3.3 million.
The bridge creates a new biking and walking link connecting Bethlehem and Gate Pa via a bridge across the Takitimu Drive Toll Road.
The two bridges and new pathway are a $3 million Urban Cycleways Programme project jointly funded by the Urban Cycleways Fund and Tauranga City Council.
People can get live updates on incidents affecting state highways by calling 0800 4 HIGHWAYS or checking the website. NZTA is also on Facebook and Twitter.
More on SunLive...