Free school buses call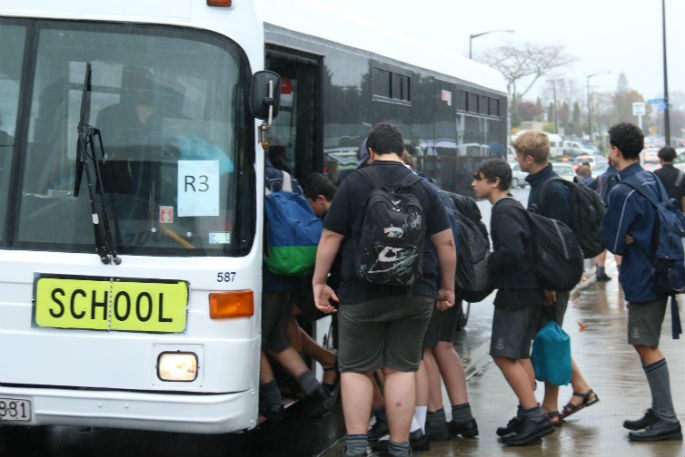 Bringing back free school buses is being proposed as a short-term solution for Welcome Bay's traffic congestion.
In submissions to the Tauranga City Council Long Term Plan yesterday Maleta Knight, speaking for the Welcome Bay Transport Forum, said traffic congestion really stepped up after the Ministry of Education stopped free school buses in 2015.
"The Ministry of Education's removal of bus funding in 2015 had a dramatic effect on Welcome Bay morning traffic volumes," says Maleta.
And the BOP Regional Council proposal to reduce direct school bus services in 2019 will make the traffic volumes even worse says Maleta.
The impact of the school traffic on congestion is noticeable during school holidays when there is very little congestion leaving Welcome Bay.
The transport forum also wants a halt to more houses being built in Welcome Bay until the traffic infrastructure has been improved.
The residents also want the four-laning of the Hairini Bridge brought forward to the next two to five years and a dedicated bus lane along Welcome Bay Road, plus a separated cycleway.
The suggestions are being made in order to reduce the severe morning traffic congestion that has resulted in a morning 7.30am commute from central Welcome Bay to the CBD now taking an hour, when only six months ago it took 20-30 minutes.
"Riding a school bus from Oteki Park bus stop via Osprey Drive down Victory Street and up to the Welcome Bay lights took about 13 minutes in 2015," says Maleta. "Now it takes 45 minutes before the bus even leaves Welcome Bay."
The school bus provider put morning pick up times forward by 30 minutes to 7.15am, which has reduced the commute time but it results in students arriving at schools half an hour before there are any teachers present, says Maleta.
"It also puts strain on families as they adjust morning routines in order to get children on the bus on time."
Contributing factors include a lack of schools in Welcome Bay, and forcing all students over the age of 11 to commute to intermediate or high school. There is no supermarket, so residents have to travel for anything more than daily staples. There are few employment opportunities and a significant number of commuters are obliged to use work or trade vehicles, or they travel to destinations not served by buses.
Anna Larsen form the Welcome Bay Community Centre says the forum is also taking its concerns to the Bay of Plenty Regional Council public transport committee at its meeting on Friday.
The Welcome Bay Transport Forum is seeking short-term solutions such as free school buses and free commuter buses to reduce the volume of traffic, and traffic light-controlled tidal flow measures for the Hairini Bridge/Fifteenth Avenue/Turret Road, both of which can be implemented within the next few months, says Anna.
Free buses for school students could start almost immediately.
"The question we would like to ask the community is 'Do you think there would be less traffic congestion if school buses were made free again?'"
Across the city there are about 25,000 school students attending Tauranga primary and secondary schools - 15,000 primary and about 10,000 secondary students.
According to figures provided by the regional council, patronage on Tauranga SchoolHopper services has dropped since fares were introduced in 2015. The 2015/16 year recorded approximately 539,000 trips, and the 2016/17 financial year recorded approximately 503,000 trips.
A number of school students have always used the BayHopper service, however this number is also dropping. There were a total of 431,000 trips in the 2015/16 year, and 361,000 trips in the 2016/17 year.
Current Tauranga student bus fares are $2 cash and $1.60 with a smartcard. In Rotorua the cost is currently $2.70 and $1.89 respectively, but will drop in July to $1.70 and $1.34.
A survey of price perceptions has found the acceptable price for a single trip is within a range of $1.40 to $1.50.
More on SunLive...