Sam on a roll at La Rochelle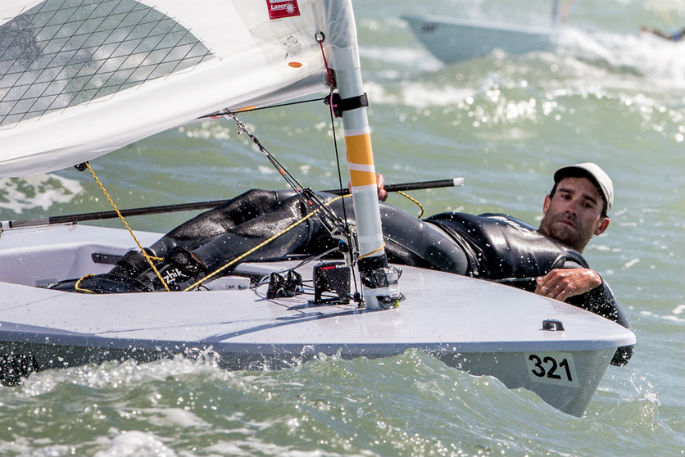 Tauranga sailor Sam Meech is making a habit of winning races at the Laser European Championships in La Rochelle and added another overnight (NZ time) to keep him in the hunt for the title.
The Olympic bronze medallist has now won five of his eight races but the latest is more significant because it came on the first day of gold fleet racing.
Sam is in second, one point adrift of Australia's Matt Wearn with Sweden's Jesper Stalheim a further seven points back in third.
Andrew McKenzie slipped a couple of places to fifth after a 25th and an eighth but is still in with a chance of picking up a medal with two days remaining.
Sam was 15th in the first race, which is now his discard for his worst result, after picking the wrong side of the course.
"In the first race I got a little bit caught out," says Sam "I thought the wind was going to go left but there was tide on the right which made it advantageous to go over there. Andrew, George [Gautrey] and I got caught out on the left and at the top mark the right came in really strongly so we were battling back in that race as much as we could.
"In the second race I had a much better start and went the right way. I was lucky enough to pass a couple of guys who were in front of me at the top mark and then hang onto the lead.
"Hopefully today's first race doesn't hurt me too much in this regatta but there are still two more days to go and four races is heaps in this fleet, especially if we get some more tricky conditions."
La Rochelle is famous for its tidal conditions but the regatta has been blessed with 12-20 knot sea breezes throughout and similar conditions are forecast for the remaining two days.
Andrew McKenzie felt like he battled the whole day but is still in the hunt due to his consistently good scoring over the first three days.
"Unfortunately I got the first beat terribly wrong in the first race so it was a bit of a race to forget," says Andrew. "I didn't have the best start in the second race but had the right strategy so it was nice to grind a few places down throughout the race and get a solid number on the board.
"Despite a bit of a disappointing day I'm still right there overall. With four more races, there are a lot of points up for grabs so I'll be trying to finish strongly."
Susannah Pyatt will have the same aim in mind in the Laser Radial fleet. Pyatt had a disappointing day with a 44th and a 42nd on the first day of gold fleet racing seeing her slip 10 places to 29th overall.
The Radial title is seemingly coming down to a three-way battle with only five points separating the Dutch pair of Marit Bouwmeester and Maxime Jonker and American Paige Railey.
Results and standings after the fourth day of the Laser European Championships at La Rochelle, France, overnight:
Laser (160 boats)
1st: Matthew Wearn (AUS) 2 1 1 1 1 1 (12) 3 - 10 points
2nd: Sam Meech (NZL) 1 1 1 1 2 4 (15) 1 - 11 pts
3rd: Jesper Stalheim (SWE) 4 3 3 3 (5) 2 1 2 - 18 pts
5th: Andrew McKenzie (NZL) 2 2 8 1 3 3 (25) 8 - 25 pts
47th: George Gautrey (NZL) 22 (55 BFD) 13 8 20 3 30 39 - 135 pts
Silver fleet
97th: Matthew Kempkers (NZL) (41) 16 24 40 31 26 38 35 - 210 pts
Laser Radial (93 boats)
1st: Marit Bouwmeester (NED) 3 (9) 1 3 1 2 5 7 - 22 pts
2nd: Maxime Jonker (NED) 1 1 1 8 1 1 (14) 11 - 24 pts
3rd: Paige Railey (USA) 1 7 11 4 2 1 (13) 1 - 27 pts
29th: Susannah Pyatt (NZL) 14 12 4 10 11 16 (44) 42 - 109 pts
44th: Olivia Christie (NZL) 23 20 25 17 20 8 39 (46) - 153 pts
Silver fleet
83rd: Annabelle Rennie-Younger (NZL) 27 37 36 37 28 37 40 (47 BFD) - 243 pts
More on SunLive...