Omokoroa vandalism targets Aucklanders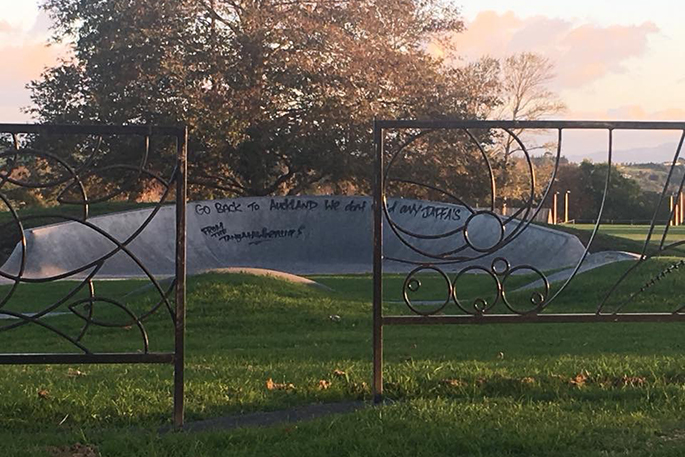 Omokoroa is one of the Western Bay of Plenty's booming settlements, but apparently not everyone is happy about the influx of new residents.
Recent tagging at the Omokoroa Skate Path instructs Aucklanders to go back to where they came from.
The full message scrawled on the concrete bowl reads: 'Go back to Auckland, we don't need any Jaffas. From the Tangata Whenua'.
No one has signed the message, and despite the use of a Maori term, there's no indication the message was left by, or on behalf of, local Maori.
The image has been shared on social media, with some commenters doubting whether this particular incident of tagging was done by kids.
One woman wrote: "Not sure a younger demographic would use or know some or one of those terms?"
Another commenter agreed. "Yes just talked to my teenager, wasn't impressed at all with the message. They want as many people to move to Omokoroa as possible as they hate living in a quiet little village. Also had no idea what a Jaffa was."
Western Bay of Plenty District Council says they were made aware of the tagging yesterday by mowing contractors.
"Today we are arranging for it to be removed," says a spokesperson.
"As you can imagine skate parks are often targets for graffiti and we manage the removal of this when it occurs. I believe this is the third time we have had graffiti reported on the Omokoroa Skate Path."
More on SunLive...