Few answers for Bella Vista owners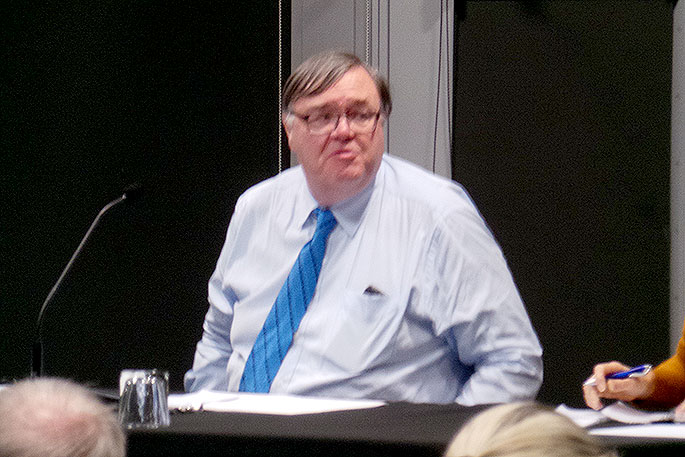 Home owners and residents caught up in the Bella Vista debacle received small comfort upon learning the terms of reference under which recently retired High court Justice Paul Heath QC will be looking into how residents of 21 homes have been evicted and their properties declared dangerous.
More than 50 people attended the meeting at the ASB Arena last night, which was held under heavy security.
People had to sign in and were given coloured tags to wear indicating whether they were home owners, interested public or media.
Paul opened the meeting explaining the terms of reference to the residents and property owners; saying he is hired by the Tauranga City Council to look into how the council conducted itself in relation to the Resource Management Act and the Building Act over consents issued to Bella Vista homes.
"What the council did or omitted to do, I'm concerned with what happened or how it happened," says Paul.
Under the terms of reference he's not concerned with why it happened. And it is not his job to decide if the Tauranga City Council has any responsibility to the owners of the 21 Bella Vista properties, or any other parties.
In particular he is to investigate the issuing of Code Compliance issued by Tauranga City Council to homes at 297 and 311 Lakes Boulevard and 2 and 4 Aneta Way.
To assist him the city council has provided a digital file and 38 ring binders of hard copy documents – which he has to absorb and report back to council on before the end of the month, with his final report due on June 1.
Resident Colin Mills asked if Paul is aware of 'the affidavit' purporting to be from a former city council staff member.
Colin says Paul's report will be incomplete without an investigation into the allegations.
Paul says he has seen it and read it. He's also seen the other geotechnical reports.
Another of the claims surrounding the declaration of the 21 Bella Vista homes as dangerous is the contention that the council is relying on only one geotechnical report – and that there are other conflicting geotechnical reports.
Paul says he's seen four geotechnical reports.
His reply to Colin is that the terms of reference do not permit a broader investigation.
He has no power to summon witnesses or to cross examine them. If he was able to ask why events happened, the report to council will not be available for another three to six months.
"Because there is so much information that would have to be gone through," says Paul.
"I recognise and understand there are those wider concerns, I will be taking those into account."
Any home owners, residents or other parties who have any information for the inquiry can be sent to an email address at info@bankside.co.nz
He also agreed to accept photos and documents from developer Danny Cancian who says he has all the building consent documentation that Danny claims is missing from city council files.
More on SunLive...