Kiwis in top three at Laser Europeans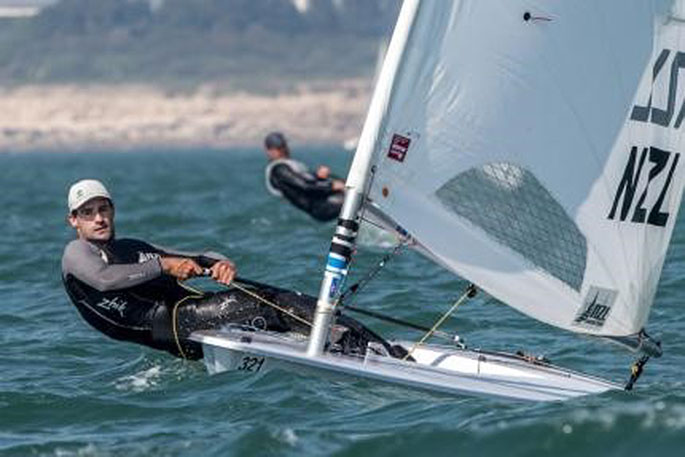 Sam Meech continues to lead the Laser European championships in La Rochelle but he very nearly missed the start of racing on the second day.
The 27-year-old continued his perfect start to the regatta, adding two more race wins to the two he collected on the first day yesterday, to lead on countback over Australian Matthew Wearn.
Andrew McKenzie also continued his good early form, adding an eighth and first overnight (NZ time) to be third overall, and Susannah Pyatt is the best placed of the Kiwis in the Laser Radial in 20th.
Meech's biggest issue of the day was of his own making.
"It was another good day for me but it started badly," says Meech.
"Matthew Kempkers and I got pretty hard up on the ramp and we launched with only 40 minutes before the first race. It was quite a long way out there and we were freaking out that we were going to miss the start of the first race but we got out there with about 10 minutes to spare.
"It was pretty windy and my speed felt really good. It was pretty fun racing with some nice waves and we haven't really had those epic conditions for a while.
"Qualifying has gone well for me so far but it's a long regatta and has only really just started. I imagine a lot of guys have some low scores so I can see it will just start again when it gets to the finals. It will be nice to keep it going tomorrow and finish the qualifying strongly."
A large fleet of 160 Laser sailors have assembled in La Rochelle, meaning three separate groups for three days of qualifying before the top sailors move into three days of gold fleet.
The top 10 also contains the likes of world champion Pavlos Kontides (Cyprus) and Olympic champion Tom Burton (Australia) so the real racing will start later in the week.
McKenize is also in the mix and his worst result, and discard so far, is an eighth. It puts him in a stronger position than both Kontides and Burton, who have both had black flag disqualifications for start line infringements.
"It was glamour 15-20 knot onshore conditions so, once you were clear, it was all about speed," says McKenzie.
"I had a really bad start in the first race but it was nice to nail the second race.
"I scored a couple more keepers so, long term, it puts me in good stead. The goal will be to get a couple more low scores tomorrow so I'm in a strong position heading into gold fleet."
Youngster George Gautrey had a much better day with a 13th and an eighth helping him jump more than 60 places to 48th overall and Kempkers is 89th.
Pyatt also improved on her first day after banking a fourth and a 10th in her races to be 20th overall in the Laser Radial. Olivia Christie is 46th and Annabelle Rennie-Younger 75th in the 93-boat fleet.
Results and standings after the second day of the Laser European Championships at La Rochelle, France, overnight:
Laser (160 boats)
1st: Sam Meech (NZL) (1) 1 1 1 - 3 points 2nd: Matthew Wearn (AUS) (2) 1 1 1 - 3 pts 3rd: Andrew McKenzie (NZL) 2 2 (8) 1 - 5 pts
48th: George Gautrey (NZL) 22 (55 BFD) 13 8 - 76 pts 89th: Matthew Kempkers (NZL) (41) 16 24 40 - 80 pts
Laser Radial (93 boats)
1st: Maxime Jonker (NED) 1 1 1 (6) - 3 pts 2nd: Marit Boumeester (NED) 3 (9) 1 3 - 7 pts 3rd: Hannah Snell-Grove (GBR) (22) 1 5 2 - 8 pts
20th: Susannah Pyatt (NZL) (14) 12 4 10 - 26 pts 46th: Olivia Christie (NZL) 23 20 (25) 17 - 60 pts 75th: Annabelle Rennie-Younger (NZL) 27 (37) 36 37 - 100 pts
More on SunLive...