Fine day ahead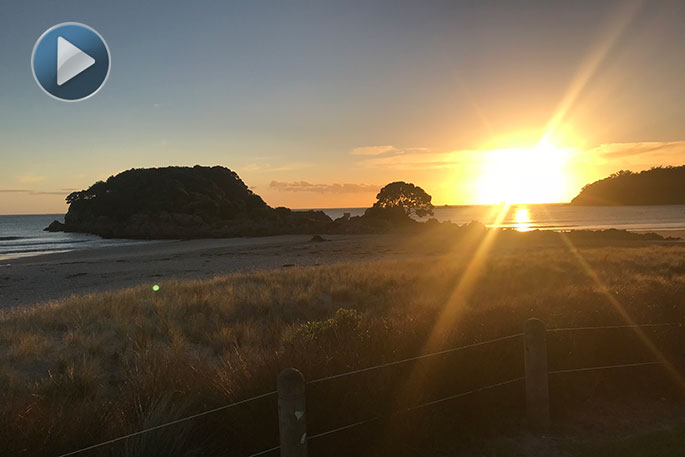 Click the image above to watch the video
The weather forecast today is for a fine day, although we could get some morning cloud. Southwesterlies will be dying away.
It's a two-clothing layer day today with a high of 22 and an overnight low of 11 degrees. Humidity is 85 per cent.
Low tide is at 7.30am and high tide is at 1.40pm. There's a sea swell of .3m with a sea temperature of 18 degrees. Sunset tonight is at 5.17pm.
If you're going fishing the next best fish bite time is tomorrow between 7 and 9am.
In NZ history on this day in 1907 the first School Journal was published. New Zealand pupils were for the first time able to read a schoolbook published in their own country.
In 1915 a Kiwi Wimbledon champ was killed in battle. New Zealand's most successful tennis player, Anthony Wilding was one of the stars of the sport in the decade before the First World War, He joined the Royal Marines and was killed, age 31, in France.
In 1945 New Zealand celebrated Victory in Europe. Germany surrendered on May 7, New Zealand time, but acting Prime Minister Walter Nash insisted that celebrations should wait until after British Prime Minister Winston Churchill had officially announced peace at 1am on May 9, New Zealand time.
In world history on this day in 1502 Christopher Columbus left Spain on his final trip to the New World. In 1754 the first newspaper cartoon in America appeared. In 1926 explorers Richard Byrd and Floyd Bennett made the first flight over the North Pole.
In 1941 the Royal Navy captured the German submarine U-110. Onboard was the latest Enigma machine, which helped Allied cryptographers eventually break the German code. In 1962 a laser beam was successfully bounced off the moon for the first time.
Today is the birthday of writer James Matthew Barrie. Born in 1860, he wrote 'Peter Pan, The Boy Who Wouldn't Grow Up'. He once said "When the first baby laughed for the first time, its laugh broke into a thousand pieces, and they all went skipping about, and that was the beginning of fairies." He also said "Always be a little kinder than necessary."
To get involved in some of the many activities happening around the Bay, please check out our What's on page.
Have a great day!
More on SunLive...