Meech makes great start to Laser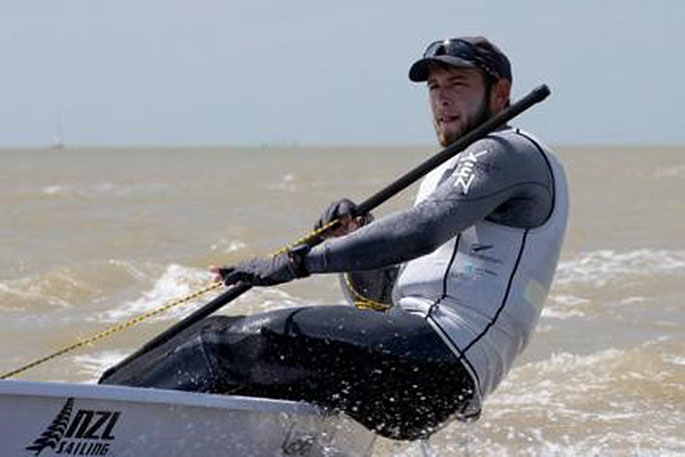 Sam Meech made a perfect start to the Laser European championships in La Rochelle overnight (NZ time), winning both of his races to take an early lead in the regatta.
He was joined near the top of the overall standings by fellow New Zealander Andrew McKenzie, who is fourth after finishing second in both of his races.
Meech has been a model of consistency this year, always finishing in the top four including collecting silver at the recent World Cup regatta in Hyeres and bronze at the Princess Sofia regatta in Palma.
Another top quality fleet has assembled in France but, with 160 competitors in the Laser, the sailors are split into three groups for the first three days of qualifying before three days of gold fleet.
Meech came out on top in his races against the likes of Olympic silver medallist Tonci Stipanovic and fellow Croatian Filip Jurisic.
"It was a good day for me and I managed to come away with two really good races," says Meech.
"We had fantastic conditions with about 12 knots and really nice waves so it was glamour sailing out there and my speed felt really good.
"The only tricky thing was the tide. We had an outgoing tide but it was hard to know what was going on at times in the second race. In some parts it felt like an outgoing tide and in other parts it felt like it was incoming. But in that sort of breeze it was a speed race so it was good fun.
"This is a long regatta, six days, so we have a couple more days of qualifying before three days of finals. It's nice to have a good start but it's really only the beginning. With 10 more races, we will see how it goes."
McKenzie also knows not to get carried away by his start but is happy to be in the mix after the first day. The 23-year-old, who is looking to repeat his performance of 12 months ago when he won bronze at the Laser European championships, was in group 1 and finished level on points with world champion Pavlos Kontides.
"We had steady sea breeze conditions so it was important to get clear from the start and go fast," he says.
"I was able to get my strategy right in both races which put me in the mix at the top mark.
"I was feeling pretty quick upwind so I just tried to minimise manoeuvres and keep it simple. It's nice to have a good start but, with so many days to go, it doesn't mean a whole lot. The goal will be to remain consistent and take each day as it comes."
Susannah Pyatt made a steady start to the Laser Radial competition, settling into 24th on the back of a 14th and 12th in her two races.
Olivia Christie was the next best of the New Zealanders in 39th after a 23rd and a 20th and Annabelle Rennie-Younger was 66th.
Results and standings after the first day of the Laser European Championships at La Rochelle, France, overnight:
Laser (160 boats)
1st: Sam Meech (NZL) 1 1 - 2 points 2nd: Matthew Wearn (AUS) 2 1 - 3 pts 3rd: Pavlos Kontides (CYP) 3 1 - 4 pts
4th: Andrew McKenzie (NZL) 2 2 - 4 pts 85th: Matthew Kempkers (NZL) 41 16 - 57 pts 111th: George Gautrey (NZL) 22 54 - 76 pts
Laser Radial (93 boats)
1st: Maxime Jonker (NED) 1 1 - 2 pts 2nd: Marie Barrue (FRA) 2 2 - 4 pts 3rd: Tuula Tenkamen (FIN) 3 4 - 7 pts
24th: Susannah Pyatt (NZL) 14 12 - 26 pts 39th: Olivia Christie (NZL) 23 20 - 43 pts 66th: Annabelle Rennie-Younger (NZL) 27 37 - 64 pts
More on SunLive...