Hunters praised for safety focus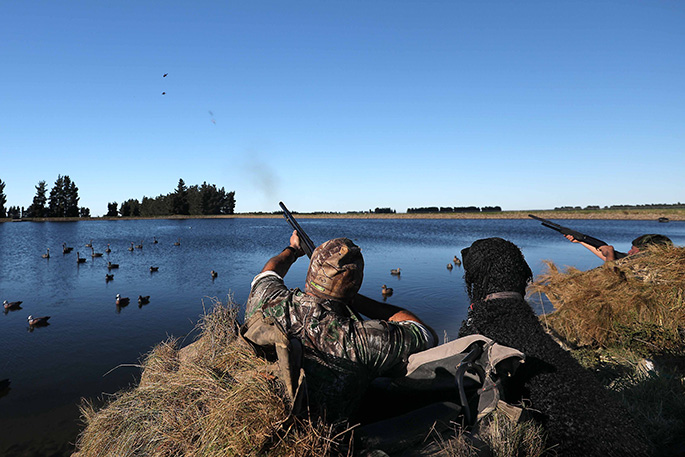 Fish & Game staff say most hunters encountered in a large-scale ranging operation were 'more than happy' with their start to the new game bird season, which began early Saturday morning.
Officers say as usual, the hunting varied from place to place according to local weather and other conditions, hunters' skills, and bird numbers.
But in general it was a 'very pleasing' start to the season, ahead of last year, with some great hunting reported at some of the more popular spots.
Auckland/Waikato Fish & Game chief executive Ben Wilson says the highly regarded Hauraki Plains had large numbers of ducks and hunters did well, better than expected, with cool cloudy conditions prevailing.
Staff in the Eastern Region, which includes the coastal Bay of Plenty, say this coastal area performed extremely well, as expected, after a 'marvellous' breeding season.
In the Kaituna area, hunters had got close to their limits.
On the opposite coast in Taranaki, hunters achieved average bags but areas further inland were tipped to provide better hunting. The hunters spoken to were pleased with how their day was going.
Down south, in the Nelson/Marlborough Region, the Para Wetland performed 'pretty well' with quite a few hunters getting their limits.
In North Canterbury, hatchery and compliance manager Dirk Barr says established ponds that had been grain-fed provided some very good hunting in many cases.
"Good numbers of around 20 to 60 birds per pond were reported by hunters on a number of Canterbury's many irrigation ponds," he says.
Near Selwyn on the Canterbury Plains, a family group of four hunters were 'quite happy' after bagging 50 ducks by 10am.
"On Lake Ellesmere, most hunters managed to harvest one or two birds in the first hour, but some who seemed to be in the right spots took very good numbers of birds despite the calm coastal weather," says Dick.
Some maimai teams had around 25 to 30 birds in the bag, he says.
In the Central South Island (CSI), the average bag was around half a dozen birds including mallards and paradise shelduck.
The hunters 'doing really well' had each bagged around a dozen ducks by about 11am.
CSI Fish & Game officer Rhys Adams says there were good numbers of birds in the air and while out ranging he could still hear shots being fired some distance away as late as noon, an encouraging sign.
Out on the West Coast, Fish & Game officer Lee Crosswell says it was an enjoyable morning for rangers who encountered a 'good keen bunch of hunters'.
Most were managing at least a few birds, he says.
Fish & Game communications manager Don Rood says all credit must be given to the thousands of hunters who turned out, for behaving well and safely.
He says that by midday Sunday there had been no reports of serious injury.
Don says Fish & Game, police, the Mountain Safety Council and Water Safety Council had joined forces in the run up to the start of the season urging hunters to make safety their number one priority.
"We aren't claiming credit for an incident- free start to the season, every individual hunter deserves a pat on the back," he says.
"But of course all the staff involved in the different organisations would like to think that this publicity push persuaded hunters to give some extra thought to safety issues.
"As we've said repeatedly, no duck or bag of ducks is worth a shooting accident."
He says Opening Weekend is a great occasion with lots of tradition behind it, not only for diehard hunters but younger people going out with friends and family and learning some hunting skills.
"This is the one date in the calendar where traditionally through generation after generation, people have got together and gone out duck-hunting."
Fish & Game has confirmed that a number of shotguns have been impounded from hunters in both islands, for offences including the use of banned lead shot, and unrestricted magazines.
But Don says that encouragingly, the number of shotguns seized appears to be down on last season. Confirmed numbers won't be known until today.
More on SunLive...