Diversion for Welcome Bay commuters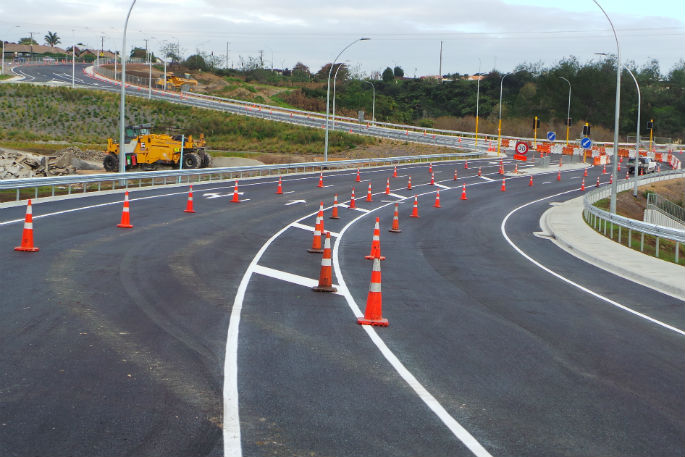 Welcome Bay commuters are being diverted onto part of the underpass approaches today, as the completion date for the project moves nearer.
Vehicles exiting Welcome By today are being diverted across the new culvert over the Kaitemako Stream, through the intersection and up the hill, to re-connect with Welcome Bay Road near the Ohauiti Road traffic lights.
This morning's switchover comes after an earlier trial on Saturday night.
"We will be using the new road as part of our temporary traffic arrangements to allow us to complete the tie-ins on the existing Welcome Bay Road," says NZ Transport Agency Projects Team Manager, John McCarthy.
"By doing that, it allows us to reduce the volume of traffic and to get in to areas safely.
"The temporary traffic arrangements at the moment are all to do with the tie-ins. They have to juggle them a little bit to try and effect the works while also minimising the disruption to traffic."
The project is on-track for the project's community open day on May 27, says John.
"After that time we hope to have traffic using the alignment through the underpass, and that will allow us to complete the work on Welcome Bay Road at Greenwood Park and the like."
The NZTA says shoulder closures, lane diversions, speed restrictions, off peak and night works will be in place throughout the site this week. The work is weather dependent.
The Welcome Bay Road entrance to Greenwood Park will be temporarily closed – as agreed with village management.
There may be some delays while people adjust to the new route, says John. The work on the underpass is expected to be completed in June, weather and other factors permitting. However there will still be work that needs to be completed on the local roads that tie in to the project.
Once completed, the $45 million Maungatapu underpass will be a two-lane link underneath the Maungatapu roundabout and a separated cycle and walk way, that will improve the traffic flow on the state highway around the Maungatapu and Hairini roundabouts.
The project will improve people's journeys around the Maungatapu and Hairini roundabouts, will separate state highway traffic and local traffic, and make travel safer for pedestrians and cyclists.
People can get live updates on incidents affecting state highways by calling 0800 4 HIGHWAYS or checking the website.
They can sign up for alerts for their journey at: www.journeys.nzta.govt.nz
NZTA is also on Twitter and Facebook:
More on SunLive...