Weekend of basketball in Tauranga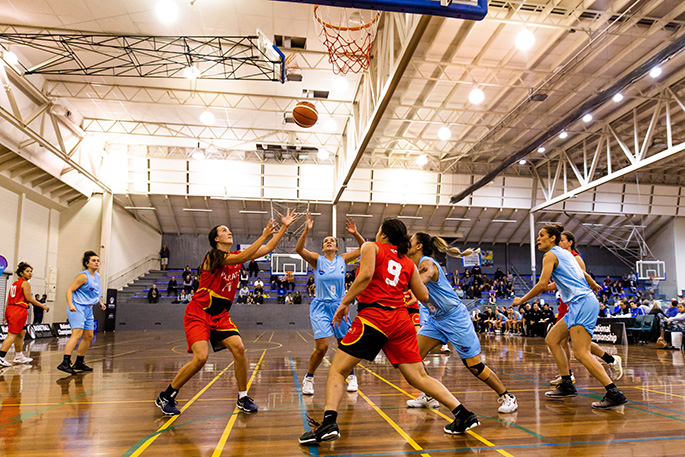 After two rounds of the 2018 Women's Basketball Championship Tier One competition only Waikato Wizards remain unbeaten after they defeated Auckland Dream 67-56 in Tauranga on Saturday.
Once again Waikato were well served by Alyssa Hirawani (15 points), Charlisse Leger-Walker (23 points and 11 rebounds) and Ella Bradley (19 points).
Auckland made a frantic bid to reverse a 55-41 three-quarter-time deficit as sisters Natalie Taylor, Hailey Moala-Purcell and Charmian Mellars combined for nine straight points. Tash Lenden scored a welcome basket for the Wildcats but their lead was only seven points (57-50) with five minutes to play.
Leger-Walker then demonstrated her qualities knocking down a pair of threes followed by an assist for Bradley, as Waikato recorded a second convincing win in two days.
Morgan Ili and Akiene-Tera Reid combined for 35 points as Harbour Heat outlasted Otago Gold Rush to win 63-47.
Elsewhere, in an otherwise even first half, Harbour edged the closing three minutes 10-2 to carry a 36-27 lead into the half time break. Reid led all scorers at the interval with 11 points.
Harbour maintained a 10 points buffer through an intriguing third period and continued to protect its advantage in the last period.
American forward Dana Goularte (16 points) only arrived in Dunedin three days ago but she was outstanding in a losing cause. Natalie Smith (6 points and 13 rebounds) also got through a ton of work but the Gold Rush struggled to find regular scorers, shooting just 24% from the floor.
Meanwhile, Power Chill Country Cannons guard Arielle Parai led all scorers with 20 points but it was to little avail as the Cannons went down 69-49 to Alloyfold Canterbury Wildcats
The Wildcats, smarting from their heavy defeat at the hands of Waikato Wizards on Friday, started strongly opening up a 27-13 opening quarter advantage.
The forward duo of Tsubasa Nisbett and Connie Poletti continually troubled the Cannons as the half time advantage stretched to 40-23 in favour of the Wildcats.
Despite the tireless efforts of Freda Riwai and Donna Fermanis, Canterbury were able to stretch the lead beyond twenty points to 56-32 at the last break.
The Cannons increased their defensive effort in the final quarter but with Lauryn Hippolite, Laken Wairau and Shea Crotty playing with composure the Wildcats closed out a decisive win.
Wildcats coach Lori McDaniel was pleased with the performance of the defending champions.
"I was terribly disappointed with the performance of the team on Friday in the loss to Waikato Wizards.
"Today was much better, we played with more energy and executed at both the defensive and offensive ends with greater accuracy. Overall I was much happier."
Taranaki centre Lyndi Laborn dominated proceedings as the Thunder beat Tauranga City Coasters 67-30 in their game. Laborn, who has recently been playing in the German Bundesliga, produced a double-double of 24 points and 22 rebounds.
Tauranga, spurred on by the home crowd, led in the early stages but once Laborn and Isabelle Cook kicked into gear the Coasters struggled for answers.
Kaitlyn Morrell (10 points) top scored and Makayla Daysh (8 points and 6 rebounds) worked tirelessly on a day when the hosts were distinctly second best.
Teams in the newly introduced tier two category of the 2018 Women's Basketball Championship took to the floor for the first time in Tauranga on Saturday with all four teams playing twice.
North Canterbury endorsed their pre-season favourites tag with victories against Nelson Sparks and Taitokerau Northland.
Ten points from Esra McGoldrick propelled North Canterbury to a 37-24 half-time lead against south island rivals Nelson but eight points in the third period from Jelena Vucinic kept the Sparks in touch as they trailed 54-43 with ten minutes to play.
Vucinic and Jodie Hikuroa-Jeffrey made scores early in the fourth but it failed to ignite a Sparks comeback as the Cantabs eased away in the closing stages to record a comfortable 74-52 win. McGoldrick, Charlotte Whittaker and Portuguese guard Bianca Couto de Aguiar each scored in double figures for the Cantabs.
Earlier 21 first half points from Vucinic carried Nelson to a 50-25 first half lead against Rotorua Lady Vols. The Vols, paced by Aroha Haumaha (19 points), made a stronger showing in the second half before going down 82-60.
Tiana Placid and Charlotte Whittaker scored a dozen points apiece as a balanced scoring effort carried North Canterbury to a 71-26 win against Taitokerau Northland.
North Canterbury had seven players with six points or more as they won every quarter. Keani Shelford top scored for Northland with 11 points.
In the evening session the Lady Vols bounced back in style beating Taitokerau Northland 68-29.
Te Oriwa Tuipulotu-Collier scored 10 first half points to help Rotorua to a handy 37-13 half-time lead. The Lady Vols eased away in the second half to win 68-29 with eleven players making scoring contributions led by Aroha Haumaha and Tuipulotu-Collier.
More on SunLive...