Marching through the streets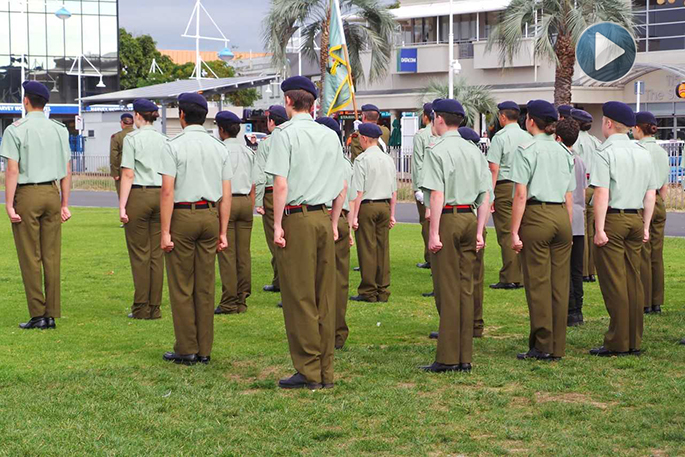 Click the image above to watch the video
With colours flying and swords drawn, the Western Bay of Plenty Cadet Unit, New Zealand's largest Cadet Corps unit, celebrated its 20th birthday by marching the streets.
The Charter Parade, comprised of 13-18-year-old boys and girls in Sea Cadet Corps, the New Zealand Cadet Corps and the Air Training Corps, saw crowds of people come together to reflect.
The march began on Second Avenue at 11.45am, continued down Devonport Road, The Strand and finished at the Tauranga Waterfront.
Western Bay of Plenty unit commander Eli Crawshaw says it is an honor to have led the parade today.
"This month marks the unit's 20th birthday since the unit was formed back in 1998," he says, "Only 10 years ago I remember myself as a former cadet marching down the streets and today the cadets did me proud and the cadet forces proud."
"Our mission has always been to develop and enable self-discipline, confident and responsible young New Zealanders and support the Tauranga community if and where possible.
The WBOP Cadet Unit over the last 20 years has won the Regional Skill and Arts competition, NZ Cadet corps most efficient unit in 2017, and also a commemoration for its outstanding work during the flooding in 2005.
"We as a unit try to get out and support the community as best as possible from the floods to the Rena disaster and we promise to continue to support the people of Tauranga."
One of the speakers, Tauranga's Deputy Mayor Kelvin Clout acknowledged the work that the cadet unit have done for the community.
"The Western Bay of Plenty Cadet Unit plays an important part in Tauranga and has done so for the last 20 years."
"Tauranga as we know it is thriving- it's the fastest growing city in New Zealand- the demographics are changing, and I can see the growth and the diversity reflected in this unit," says Kelvin.
"I want to thank all the cadets and their supporters for their community service, this includes assistance with poppy day selling, the Rena disaster, the 2005 Tauranga floods and all the support they offer to the RSA."
Western Bay of Plenty Cadet Unit is now recruiting for 2018. The Unit parades Thursday nights, 6pm-9.15pm at the Tauranga Army Hall, Corner of 11th ave and Devonport road, Tauranga.
For more information go to: www.wbopcu.org.nz
268115666
More on SunLive...