Bucket list challenge for Waipuna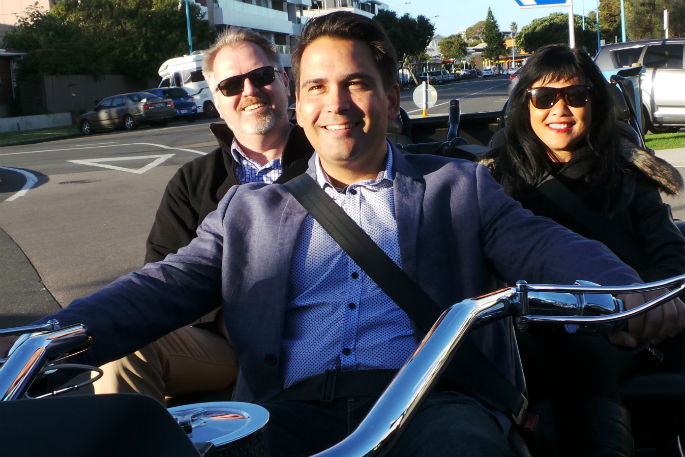 The last job for Tauranga MP Simon Bridges' working week was ticking off an item on his bucket list - taking a ride on one of Nigel Bustridge's V8 Trikes.
"That was awesome," says Simon afterwards. "I now know what to do with my middle age crisis.
"It's got quite a lot of power," he says of the 350 Chevrolet small-block powered trike.
He confessed to 'opening it up a bit' on marine parade, after leaving from outside the Mount Ocean Sports Club at a more sedate pace.
He's unsure if his passengers Waipuna Hospice CEO Richard Thurlow and fund raising manager Sasima Pearce enjoyed the run around the block as much as he did.
The spin around the block – twice, opens the Waipuna Hopice Bucket List Challenge ahead of hospice awareness week from May 14-20.
While the hospice receives some government funding, it needs to raise $2.7 million from the community this year, an amount that is increasing year by year, says hospice CEO Richard Thurlow.
While there are fund raising opportunities in the Bucket List Challenge, is it seen more as a means of raising awareness in the community of what the hospice does.
"If they able to make a donation they are welcome to," says Richard. "This is more to have people think about what they would like to achieve before their end."
If people do make a donation, the hospice may be able to help others in the hospice community achieve some of their bucket list items.
"It's more about awareness of hospice and what we do in the community for friends and loved ones," says Richard. "We started it now so we can build up to May 14."
Waipuna Hospice provides specialist medical care for patients living with a life-limiting illness, and support services for them and their families.
The geographical area covers Waihi Beach to Paengaroa. While the focus is on Hospice at Home, There is a nine bed Inpatient Unit for short term admissions and a Day Services Clinic.
Hospice specialises in providing palliative care – symptom control and pain management for the dying.
Waipuna Hospice also offers support services to patients and their support networks whether this be family/whanau, friends, neighbours, or staff at rest homes and hospital.
In addition to palliative nursing care and specialist medical support, Waipuna hospice provides respite care, practical support such as meal preparation, loan equipment, bereavement support and a chaplaincy service.
This year the hospice expects to care for 1000 patients and provide support services for their families. Last year hospice nurses made more than 14,320 visits and over 20,000 phone calls to patients in the community.
The hospice has 110 staff working in a variety of roles, and around 740 volunteers supporting all components of the hospice service.
"We need to raise over $2.7 million this financial year to meet the shortfall between our Government funding and our operating costs," says Richard, "That's a little over $51,000 per week."
More on SunLive...