Cadet unit parades the streets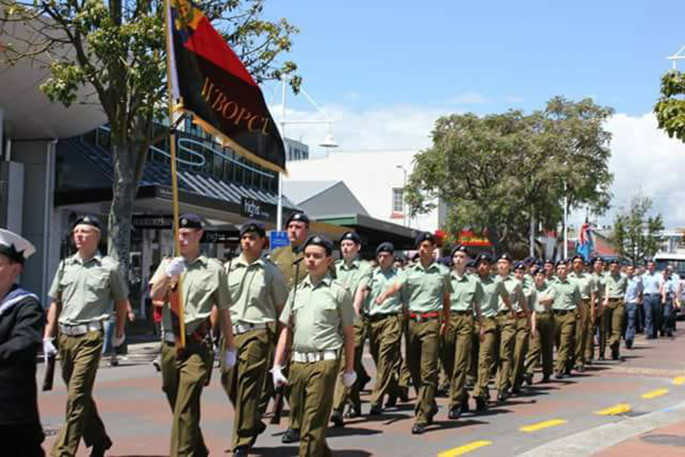 New Zealand cadets will be matching in unison across the Tauranga CBD in celebration of the unit's 20th birthday.
More than 70 Western Bay of Plenty cadets, supported by other New Zealand Cadet Corp Units and the Bay of Plenty Pipes and Drums Band, will march from Tauranga's Second Avenue to the waterfront.
"This is a great opportunity for the Tauranga and Western Bay of Plenty community to turn out to show their support for the men and women who selflessly give up their time for the service of our community," says a Tauranga City Council spokesperson.
The Charter Parade will begin on Second Avenue at 11.45am and will follow down Devonport Road, The Strand and finish at the Tauranga waterfront where Tauranga's Deputy Mayor, Kelvin Clout will review the parade.
In 2008 the Western Bay of Plenty Cadet Unit received the Charter of the City of Tauranga on the units 10th birthday.
A Charter of the City allows the unit parade through the city with drums beating, colours flying, and swords drawn.
The New Zealand Cadet Forces (NZCF or Cadet Forces) is a voluntary military-style training organisation for New Zealand youth.
Run in a partnership between the New Zealand Defence Force and a number of locally appointed community organisations, it is composed of three corps: the Sea Cadet Corps, the New Zealand Cadet Corps and the Air Training Corps.
Road closures
Second Avenue east of Devonport Road, Devonport Road from Third Avenue to The Strand and The Strand from Devonport Road to Harington Street (excluding the roundabout) will be closed between 10.30am and 1.30pm.
This will be a rolling closure as the parade moves along its designated route.
Detours will be in place and roads may open earlier, depending on the progress of the parade.
Last night's practice run ready for the Charter Parade today.
More on SunLive...