Celebrating our local firefighters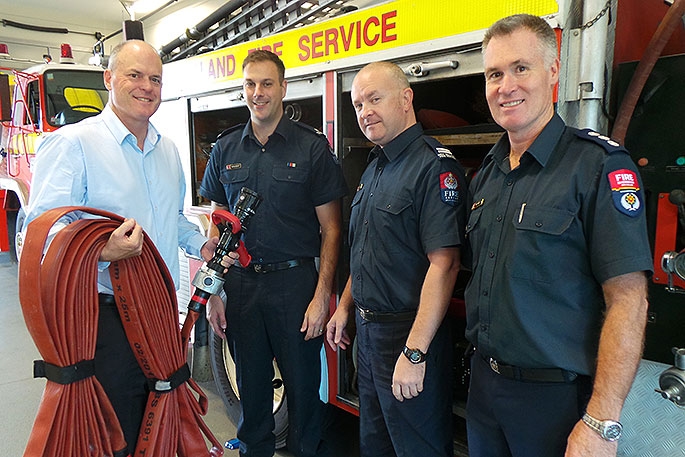 Hayden Kinzett and Steve Gilmore are professional firefighters – one with the Royal New Zealand Air Force and the other at Tauranga Airport.
You'd think they'd have enough of fighting fires but the two men are also volunteer firefighters at the Mount Maunganui Fire station, attending call-outs when the 'career' crew are already on the job and when the big jobs require all hands on deck.
Such as the job in Thames recently where they were called out to take the station's specialist hose layer appliance to assist. They were called out at 1.30am and pumped more than four million litres of water to help put the fire out before returning to Mount Maunganui at 9pm that night.
Today is International Firefighters' Day – in New Zealand, a chance to recognise the efforts of our 1717 career firefighters, 8161 urban volunteers and 3134 rural volunteers. There are also 624 management and support staff.
In 2015-2016 they attended 77,464 incidents, including 5044 structure fires, 3823 vegetation fires, 6215 motor vehicle accidents, 3279 hazardous materials call-outs and 11,677 medical emergencies.
The Mount Maunganui Fire Station attended 782 incidents last year. Almost half of them were false alarms, the majority of which could have been prevented if building owners had kept up with building maintenance and followed correct procedures when contractors were undertaking work on site, says station officer Bill Rackham.
Bay of Plenty MP Todd Muller joined the station crew for morning tea today to get an insight into their work and acknowledge the "fantastic" job they do.
"I had a great time this morning connecting with some salt-of-the-earth, community-minded locals who have an extraordinary job. We owe them a great deal of thanks and today is about acknowledging them, their families and their service.
"It takes a special kind of person to take on this kind of work, or volunteer, and they sacrifice a lot to keep us all safe"
Fire and Emergency was formed on July 1, 2017 as an amalgamation of the New Zealand Fire Service, National Rural Fire Authority and 38 Rural Fire Authorities.
The Mount Maunganui Fire Station has what is known as a 'composite crew' with a full-time crew working in shifts of four and a volunteer crew of about 10 firefighters who are paged to assist when needed. Their turn-out time is in the vicinity of just five minutes.
The station would dearly love to double its volunteer numbers and holds volunteer training sessions at 6pm every Tuesday night.
"It's quite exciting work and it really makes a difference in the community," says Hayden, the station's volunteer brigade officer in charge.
If you're interested in training to be a volunteer firefighter at the Mount Maunganui Fire Station email Hayden hayden.kinzett@fireandemergency.nz
More on SunLive...