Turbans and traffic jams on Route 80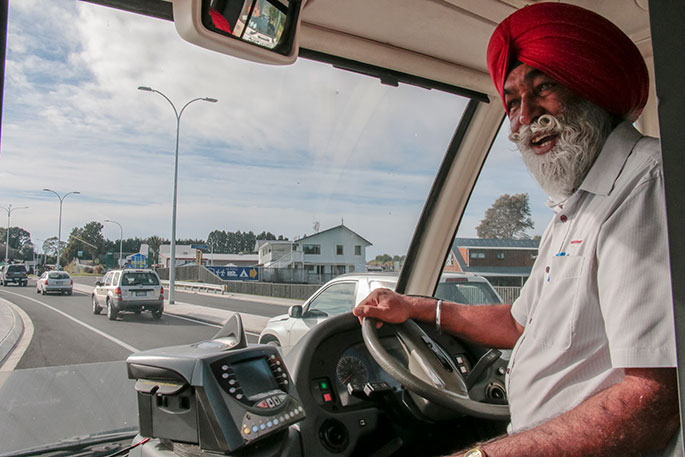 Public bus services don't generate too much positive feedback. Not many compliments.
"It's the nature of the beast," says well-known Rotorua coach operator, Reesby's Duncan Wiggins. "People only ring to complain." Bus late, no bus, bus driver rude, untidy bus, bus too fast, bus too slow, bus not stopping.
But when a bus driver doesn't get any feedback, it can also be construed as a ringing endorsement, as glowing praise. "It probably means he's doing everything absolutely right," says Duncan.
As in the case of Katikati's 'Turban Man' – the turban-wearing Sikh pilot of Bayhopper's route 80 – Baldev Singh who's achieved a level of localised celebrity at the wheel of the Katikati to Tauranga Bayhopper bus service.
"BD – for bus driver or Baldev," says regular rider, graphic designer Kerri Wheeler. "He must be the coolest bus driver in the Bay"
Yep, cool and urbane, sophisticated and cultured. Confident, charming, courteous, caring, refined and dignified – and any other words adding up to debonair. Trademark bright red turban, a palette of white, silver and grey in that paddock of a beard, moustache twirled into an artwork with wax, deep dark mysterious eyes – a bus driver who cuts a dash.
Bus driver and a pioneer to boot. "I came to New Zealand 29 years ago, Katikati 28 year ago." From a little village called Nakodar Dargabad, in the district of Jalandar close to Amritsar's Golden Temple itself – the home of Sikhs.
"We were the first Indian family in Katikati." He loves Katikati. "Proud of it, proud of the people, proud of my country." The country being New Zealand.
While he raised a family of three with wife Harminder Kaur he drove buses, a milk delivery truck and toiled for 13 years in a supermarket. "Then I was reading a newspaper in the smoko room and I saw the ad." He applied and was given charge of the Katikati to Tauranga Bayhopper bus service. He was a very happy man.
"Topped off with his aviator shades, yip, BD is an impressive package," says Kerri. "Another passenger suggested we should photograph Baldev for The Weekend Sun." So we plonked photographer Bruce Barnard aboard the Bayhopper at Te Puna at 10am on Tuesday. The service was 20 minute late – Baldev was pulling out of Te Puna at exactly the time he should have been pulling into Wharf Street.
"Some people are grumpy, but I am not a grumpy person. I keep smiling." Unless his Bayhopper gets snarled in bumper to bumper traffic snaking from Bethlehem back up SH2 beyond the Omokoroa turnoff. Accelerator, brake, accelerator, brake, stop, start, stop, start.
"The traffic makes me grumpy," says the man who doesn't get grumpy. "We arrive in Tauranga late every day because the traffic is building more and more."
People like, respect and respond to Baldev. "Other drivers wave and yell out to him," says Kerri. "People climb aboard just to say hi and shake his hand or give him a fist pump."
On the way into town Kerri will play back seat driver. "When the traffic gets bad she will tell me which lane to get into." He had the mechanics adjust the air-con system for winter. And then he consults Kerri about the temperature each morning – is it too hot, is it too cold?
Nigel D'Ath also works in Tauranga – he makes a point of riding with Baldev three or four times a week. "Baldev is a man who goes out of his way to make the whole bus experience as good as he can."
Half an hour to 40 minutes – sitting back, relaxing, engaging with regulars and at the other end no looking for parks and no paying for parks. So why not bus with Baldev? No quicker or convenient than a car. And judging by all the sullen frustrated faces crawling though Te Puna on Tuesday, certainly more enjoyable.
Both Kerri and Nigel laugh appreciatively about Baldev's pedantic parking. "He will pull in and manoeuvre back and forward to make sure the bus is as close as possible to the kerb. He then follows up with a 'mind the gap' to each and every person getting off."
This skipper also runs a tight ship. "You have to consider everyone's welfare," says Reesby's Duncan Wiggins. "And if you stamp on bad behaviour, it's a lot easier to handle and people appreciate it."
"One person swore at me," says Baldev. "But just the one so I am still happy. Most people are good people." But he's quite capable of a stern look and a growl should things turn bad.
And don't leave your rubbish on his bus. A tidy bus is a happy bus and Baldev likes happy. He will direct passengers to the rubbish receptacles.
And his favourite number is 85. Because on Nigel's app, that's Baldev's preferred speed. "None of us want to be mooching along at 70 when the bus is quite capable of 85. He knows how to use the throttle." He is keeping up with the traffic flow, and not holding it up.
Baldev has graduated from his Kiwi immersion. He was once a cricket-loving Kiwi from the Punjab – now he's a rugby nut; the All Blacks and the Chiefs occupy his TV time.
"People may not know me by name, but they know the 'turban man' in Katikati. Hullo turban man, he worked in the supermarket and now he drives the bus. Hullo turban man."
And that is absolutely fine with the bus driver, the people person.
"Good night everyone, enjoy your evening." Baldev Singh has delivered the 5.20pm Bayhopper and its core of commuters safely to Katikati. "Good night everyone." Goodnight Baldev, it has been a pleasure.
More on SunLive...