First electric boat launched in Tauranga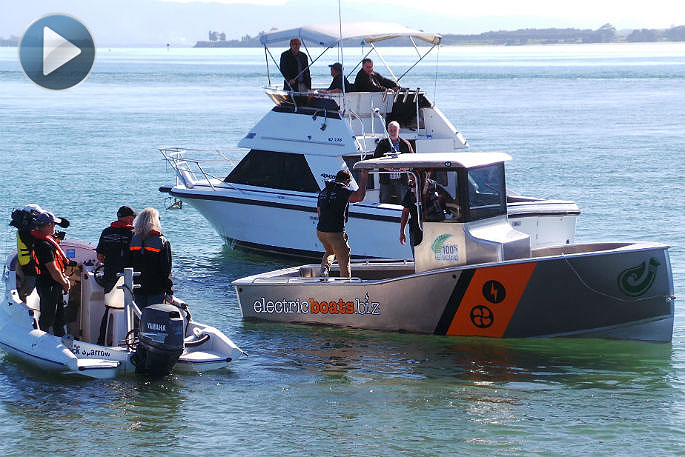 New Zealand's first purpose designed and built fully electric boat is in the water in Tauranga after a design and built process that's taken about two years.
Using Tesla car batteries to drive an electric motor has produced a boat that is quiet, pollution free, and provides buyers with value for money over the longer term says developer Sean Kelly.
"This is New Zealand's first plug-in, all electric boat. The only source of energy that powers it is electric."
He expects end users to initially include commercial and government entities using boats for generally short journey types such as agencies like DOC, Niwa, regional councils on lakes, rivers and in aquaculture.
"You can drive it around your oyster farm with some real power, not just a trolling motor type arrangement," says Sean. "You will be able to tow, push things, power hydraulic systems, leaving zero emissions in the water.
"If you do that at the moment with any kind of combustion engine, you are leaving a residue from the combustion process in the water."
The prototype is in a six metre Herley Boats hull. It's the biggest hull Sean was prepared to live with in terms of risk. Getting the electric boat into the water has taken about two years from when he began acquiring componentry, with about a year for the construction. The power train installation is by Electricboats.biz.
The prototype is proof of concept and doesn't have a price.
"It's a bit like your home at the moment. Putting solar power in and energy storage in a home at the moment is not at the price point where it makes perfect economic sense," says Sean.
"People that are going to buy one of these are going to say that's what they want. They are going to withstand the huge difference."
Upfront costs are estimated to be about double a conventionally powered boat, but the payback point is at six and a half years, says Sean. Battery replacement according to the duty cycles is at about 11 years.
"So over the 30 year life of that boat there is a huge saving in cost over the life cycle."
There are about two cars worth of Tesla batteries under the deck, driving two three-phase AC brushless motors delivering 147 horsepower.
The motors are joined together, with DC 108 volts power from the batteries delivered through two common inverter drives, or variable speed controllers.
For the trials the output was limited to about half.
"We wanted to be sure of what we are doing," says Sean.
"If you considered having 150hp outboard on this boat it would be quite a lot of power for it probably.
Sean Kelly explaining the electric boat's operation.
"There's many, many parameters where can alter we can alter charge cycles, we can alter discharge cycles, voltages. Limit the amount of current we draw.
"Basically there's six computers in this boat and each computer manages a pair of batteries. They all have to talk to each other as well, so there's a whole lot of balancing and management going on.
"We can plug in a lap top and monitor all of that."
Battery capacity is expected to deliver a day's operation. There is an on-board re-charger giving the option of plugging into either a caravan plug or domestic current for overnight charging. The lithium ion batteries can also be fast charged in under an hour at a charging station.
Drive is through a conventional stern leg.
"One of the things we have had to do to get it across the line with the regulator is to be very careful how we protect the battery," says Sean.
The electric boat engine controllers and battery pack.
More on SunLive...