$1.6 million cycle bridge taking shape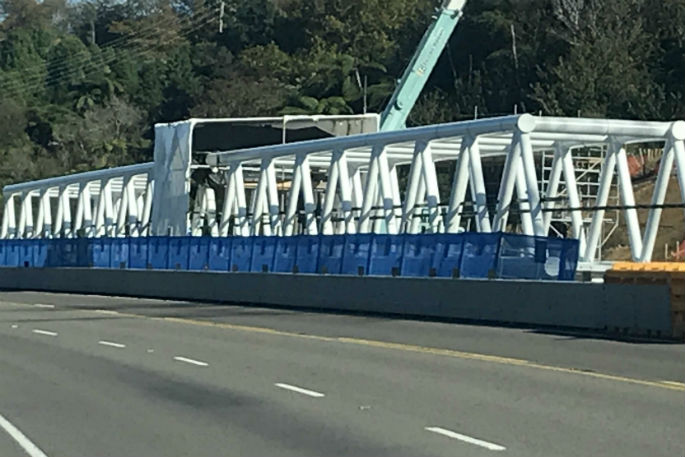 The span for the cycleway bridge over Takitimu Drive is expected to be lifted into place on the night of Saturday May 12.
The 200 tonne bridge will be lifted into place on the night of Saturday 12 May. It will be opened to the public at the end of June.
The bridge spans 72m and costs $1.6 million.
It spans 72m and weights over 200 tonne. It was delivered to the site in two separate pieces and is being welded together onsite prior to the lift, says Tauranga City Council communications advisor Marcel Currin.
"The bridge design has had extensive input from Tauranga City Council, Ngai Tamarawaho and the NZ Transport Agency.
"The design includes decorative concrete piers/decking and a timber handrail that that will emulate an eel (tuna) swimming up the Kopurererua Stream. Decorative timber bollards and other features will be erected around the bridge next financial year."
The total project including a second, smaller access bridge, is worth about $3.3 million.
The bridge creates a new biking and walking link connecting Bethlehem and Gate Pa via a bridge across the Takitimu Drive Toll Road.
The two bridges and new pathway are a $3 million Urban Cycleways Programme project jointly funded by the Urban Cycleways Fund and Tauranga City Council.
More on SunLive...