May the 4th be with you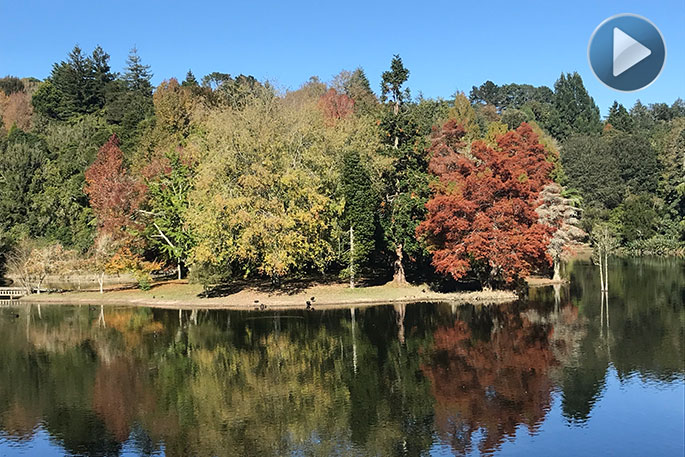 Click the image above to watch the video
Good morning! Today is Friday May 4, 2018. If you're a Star Wars fan, may the fourth be with you! This morning we're bringing you autumn scenes from McLaren Falls Park, which also provided scenes for the movie Disney's 'Pete's Dragon'.
The weather forecast today is for a fine day with light winds.
A ridge of high pressure that has been lying over the country will persist today before being displaced by a series of fronts during the weekend, as it becomes progressively wetter on Sunday.
Saturday, however should be fine, which will be good news for all those keen folk participating in the Rotorua Marathon.
It's a three-clothing layer day today with a high of 19 and an overnight low of 10 degrees. Humidity is 94 per cent.
High tide is at 9.40am and low tide is at 4pm. There's a sea swell of .2m with a sea temperature of 19 degrees. Sunset tonight is at 5.23pm.
If you're going fishing today the next best fish bite time is between 2.30 and 4.30pm.
In New Zealand history on this day, in 1772 Marion du Fresne arrived in the Bay of Islands. Du Fresne's was the second French expedition to visit New Zealand, following that of de Surville in 1769.
In 1937 an avalanche killed two workers at the Homer tunnel. The engineer-in-charge and the overseer were killed when the second avalanche to hit the Homer tunnel project in less than 12 months struck without warning.
In world history on this day in 1626 American Indians sold Manhattan Island for $24 in cloth and buttons. In 1715 a French manufacturer gave the first folding umbrella its debut. In 1927 a balloon soared over 40,000 feet for the first time. In 1930 Mahatma Gandhi was arrested by the British.
Today is the birthday of actress Audrey Hepburn (Edda van Heemstra Hepburn-Ruston). Born in 1929, she later became a U.N. special ambassador. She once said "People, even more than things, have to be restored, renewed, revived, reclaimed, and redeemed; never throw out anyone."
To get involved in some of the many activities happening around the Bay, please check out our What's on page.
Have a great day! May the fourth be with you!
More on SunLive...