Gate Pa couple's pleas to 'slow down'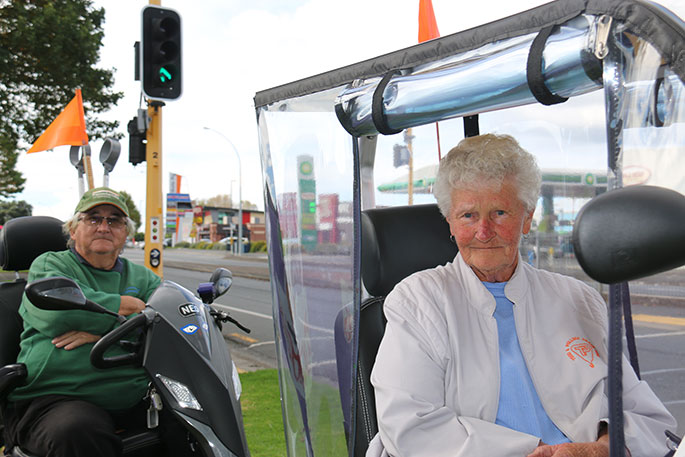 A Gate Pa couple is pleading with motorists to "slow down" near a pedestrian crossing they feel is becoming increasingly dangerous.
Carol and Neville McKay say the intersection on Cameron Road near Kauri Street and Munro Street is a safety concern to all who use it.
Carol, who uses a mobility scooter, has been struck once by a vehicle while using the crossing and has had about three near misses since – with the last incident being as recently as last week.
"There's two lanes to cross when you're coming from Munro St, then you have the centre median and then another single lane to cross," says Neville.
"This single lane is the problem. Cars go screaming through red lights. It makes you think twice about crossing now, because people aren't following the road rules.
"We want to highlight the safety concerns at this crossing not only for the elderly, and those on mobility scooters – but for everyone, be it pedestrians or cyclists.
"We both use our mobility scooters and I've also had a few near-misses. They're quite predominant scooters too, and if you can't see them 50m down the road, or see the red light, why are you on the road?"
Neville says people often don't take into account the fact scooters have a delay.
"It takes about two seconds for the power to kick in, and that's another thing people don't factor in."
Carol says the incidents have meant she is now fearful when she travels.
"My scooter is my main way of getting around. I come to other crossings and sometimes I wave cars on, sometimes I thank them for letting me cross and sometimes I wait altogether; but not at traffic lights. At traffic lights you just have to wait your turn.
"I'm so nervous every time I have to use that crossing. We call it 'crash-crossing'.
"I try to go all the way down to New World if I have to cross now and then I'll come all the way back up the road."
Neville says the most important message he wants to get across is for people to take care.
"The problem is the speed cars travel at along that road, and the fact they are ignoring the lights. Someone is going to get killed – people need to take care."
More on SunLive...