Council fund seeds school garden project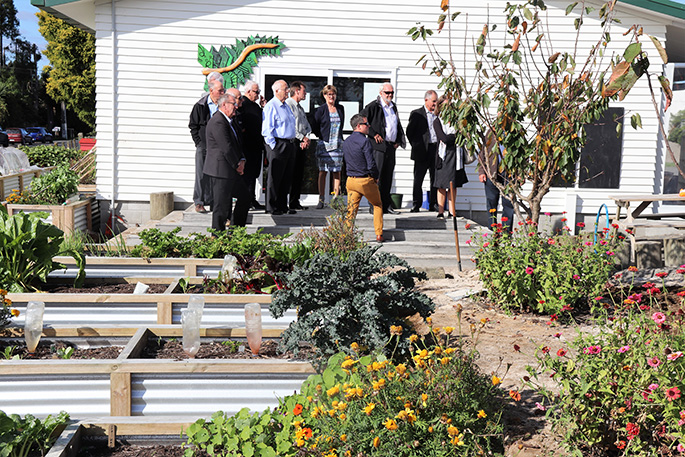 Nurturing life is part of the learning at Oropi School, where pupils are discovering the rewards of growing their own food.
The Kokako Gardens, which dominate the school's backyard, are overflowing with vegetables and herbs that have been planted, nurtured and harvested by the pupils' eager green fingers.
The garden project was started with help from Western Bay of Plenty District Council's Community Matching Fund – funding of $6000 in 2015 that now bears the rewards of the pupils' work over the past two years. The food from the gardens is not only for the table, but for the children's experience, learning and appreciation of the environment.
Western Bay councillors visited the school this month and rincipal Andrew King explained to them how the gardens fit with the school's play-based learning philosophy which inspires students to have confidence take part in `real life' learning activities.
"The wonderful thing about a rural school is having options such as this community garden and other outdoor-based learning programmes that help our kids grow in self-confidence and learn really important life skills. These real life learnings are a great motivation for the children.''
A Garden to Table programme began this year to encourage the pupils to improve their skills in the garden and kitchen. The children learn how to look after, plant and harvest the food.
The school has the use of the nearby Memorial Hall kitchen where the children learn about cooking and eating the produce they have grown. This includes kitchen safety, using appliances and how to cook hot things safely.
Andrew says the council's Community Matching Fund was the seed from which the Garden to Table programme was able to grow.
"Without this funding, we would not have been able to provide the types of garden beds that suit the school environment and the needs of the children's learning – we have put this money into a truly sustainable project for future pupils.
"The garden beds are designed to be at a height and width for the children to easily sow, prepare, harvest and look after their produce. We have also planned them to be sustainable over time and within the context of the school curriculum.
"I strongly encourage other groups and rural schools that are in the business of strengthening communities to put an application together for the council's Matching Fund. Without it, we could not have achieved the sustainability factor of this project.''
Application forms for Western Bay of Plenty District Council's 2018 Community Matching Fund are now available and can be submitted from June 12 to July 12.
More on SunLive...