Cool but fine day ahead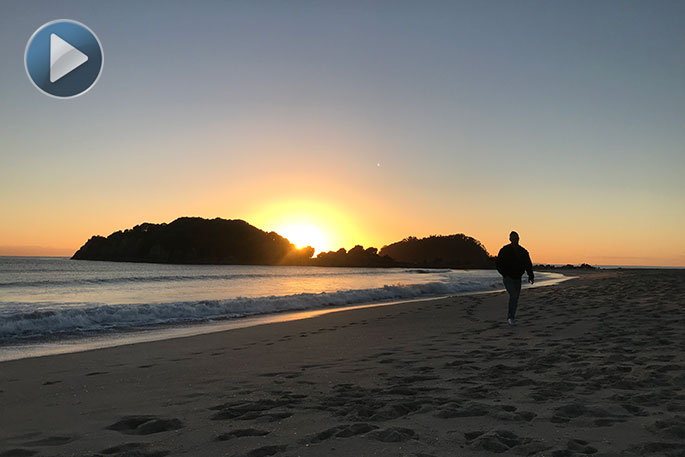 Click the image above to watch the video
The weather forecast today is for a fine day with southeasterlies dying out in the evening.
It's a three-clothing and one-windproof layer day today with a high of 18 and an overnight low of 8 degrees. Humidity is 87 per cent.
High tide is at 9am and low tide is at 3.20pm. There's a sea swell of .2m with a sea temperature of 19 degrees. Sunset tonight is at 5.24pm.
If you're going fishing the next best fish bite time is between 5 and 8pm.
In NZ history on this day in 1820 the first European plough was used in New Zealand. The missionary John Butler turned New Zealand's first furrow at Kerikeri, writing 'The agricultural plough was for the first time put into the land of New Zealand at Kideekidee [Kerikeri], and I felt much pleasure in holding it after a team of six bullocks… I trust that this day will be remembered with gratitude, and its anniversary kept by ages yet unborn.'
In 1897 New Zealand's first woman doctor was registered. Margaret Cruickshank, the first female doctor registered in New Zealand, practised in Waimate, South Canterbury, until her death from influenza in 1918.
In 1929 Charles Ewing Mackay, the controversial and disgraced former mayor of Whanganui, was shot dead by Berlin police during May Day riots in the German capital.
In world history on this day in 1952 the first airplane landed at the geographic North Pole. In 1979 Margaret Thatcher became the first woman prime minister of Great Britain.
In 1982 a British submarine sank Argentina's only cruiser during the Falkland Islands War.
Today is the birthday of singer and actor Bing Crosby. Born in 1903, he once said "Listen a lot and talk less. You can't learn anything when you're talking."
To get involved in some of the many activities happening around the Bay, please check out our What's on page.
Have a great day!
More on SunLive...