The man, the mo, the mo-ssiah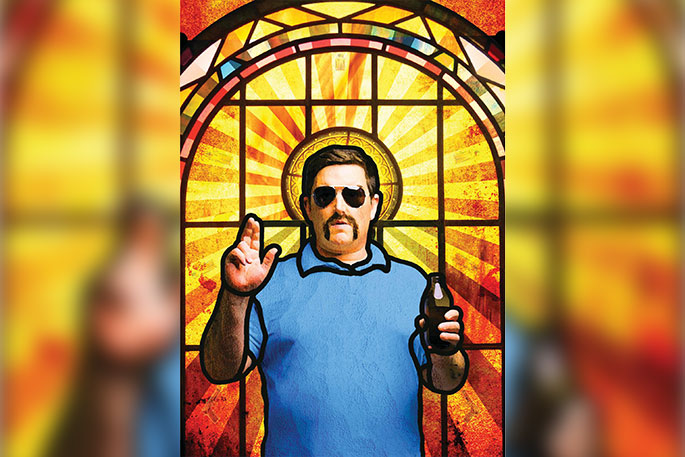 They say a man's moustache says a thousand things about him, with none of them being anything good.
And with that in mind, there's a new 'mo-ssiah' for a new age, bringing 'wisdom' to the Bay.
With his all-new self-proclaimed title, Heath Franklin's "Chopper", returns to the region as Bogan Jesus.
"Like all greats you don't earn a title, you just give it to yourself and hope everyone believes it," says Heath. "I think I bring wisdom into this role to be honest."
The show is coming to the Bay next week and Heath says it's one to look forward to.
"This show is all about the idea of giving Chopper this god-like task where everything he says is gospel.
"It's a tiny bit of an ode to the critique of religion, mostly the misinterpretations of it, and the way people pervert what should really be a good system.
"This is an atheist, pretending to be a criminal, pretending to be religious," he says.
"Chopper redoes the Ten Commandments, the way he thinks they should be done, he modernises them a bit and ditches a few of the rubbish ones – which technically makes him Bogan Moses, but that doesn't quite have the same ring to it."
Heath says his Tauranga stop of the tour is always a favourite.
"Tauranga shows are usually pretty early in the tour and the audiences are usually quite receptive which usually puts me in good spirit for the rest of the tour.
"I've been doing stand up for more than 11 years and with any job you're supposed to get better at it.
"I can easily say this is the funniest show I've written and the best, I mean jokes are jokes, but this show is wall-to-wall with really big laughs.
"I've been doing it since about January and with each night it just seems to have gotten better.
"The reaction has been great, crowds are right into it and I've made a point of being really brutal with the writing – my show is only as good as the jokes which get the least amount of likes, so anything that's not pulling its weight has been thrown overboard."
When asked about where he gains his inspiration, Heath says it's all trial-and-error.
"I've figured out the best way to write a show for me is to have a bunch of ideas months out from the show and do a series of trial shows.
"I get an audience together and then I just have a page of notes and I try rip on it and improvise in front of the crowd – that way you get some silly organic moments that just happen to you and you also have the moments you've planned and you get to execute the things you wanted to say.
"I like to do things in extremes and with comedy, the higher the stake, the bigger the pay-off.
"I love the element of danger about it, when I go to comedy shows myself you see someone saying something and you wonder 'how are they possibly going to get out of this, and then they manage to pull it off'."
Heath says his shows are not for the faint-hearted.
"I make sure I only offend people who deserve to be offended. I try to avoid low-hanging fruit and picking on people who have been picked on before – I make sure if anyone in the audience is offended I can look them in the eye and go 'don't be ridiculous'."
He says the show follows a sense of renewed energy.
"I took a year off last year just to refresh and make sure I wasn't just doing it for the sake of doing it and I think it's really paid off – I'm really looking forward to this tour."
Watch Chopper perform as Bogan Jesus at Baycourt on Tuesday May 1 at 7.30pm.
Tickets are available at www.ticketek.co.nz
More on SunLive...