Bus carrying Anzac tourists catches fire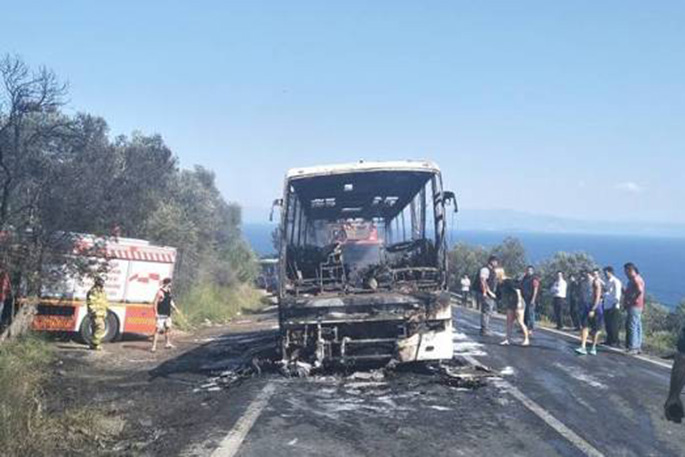 A busload of Kiwis and Australians on an Anzac tour of Turkey had to leap off their bus after it caught alight.
"We were driving up a hill, then everything just shut off," says Melissa Peters, who is from Christchurch but has been living in London.
"We turned around and there's smoke. Someone yelled out, 'there's a flame'. We all just bolted off the bus."
The 42 Australian and New Zealand passengers, along with one person from Italy, a driver and a tour guide, all escaped unhurt, but many had lost their luggage, and their passports and mobile phones.
"It started from the back. All the tyres popped. It didn't actually explode. Lucky the bush didn't catch on fire," says Melissa. "Then it slowly made its way to the front, and the glass shattered and melted.
"There was a concrete truck behind us. They had water and started putting it out. Then the fire engines came, and police came."
Speaking from Turkey, where the time was about 11.30pm on Tuesday, Melissa says the tour group was about to catch a boat over to Gallipoli and would then be sleeping outside for the rest of the night. In the morning the New Zealanders would be walking to Chunuk Bair and the Australians to Lone Pine.
She says she was lucky enough to get off the bus with her day bag. She still had her passport and, as the plan had always been to sleep outside overnight, some warm gear. "I've got my thermals, so I'm sweet."
Many people had lost all their luggage, including their passports and sleeping bags. "Some of us were asleep, some in a daze, some didn't grab their cell phone. I was lucky. I was holding my bag," she says.
"We were on our way to Troy. We were supposed to look around there today. Now we're just catching a ferry tonight over to Gallipoli to make the service in the morning."
The passengers were taken to a hotel after the fire and were being helped by New Zealand and Australian officials, who were sorting out passport issues and providing food and clothing, Melissa says. She had lost her UK residence card but expected to be able to sort that out. Fortunately she had travel insurance.
After the fire was out, the luggage hold was opened but almost everything was smoke-damaged or burnt or wet. Her bag was melted.
The Ministry of Foreign Affairs and Trade says it has consular officials at Gallipoli to provide emergency assistance.
"They are working closely with their Australian counterparts and Turkish authorities and with representatives of the New Zealand Embassy to provide consular assistance to the tour group."
More on SunLive...