A 2622 Milestone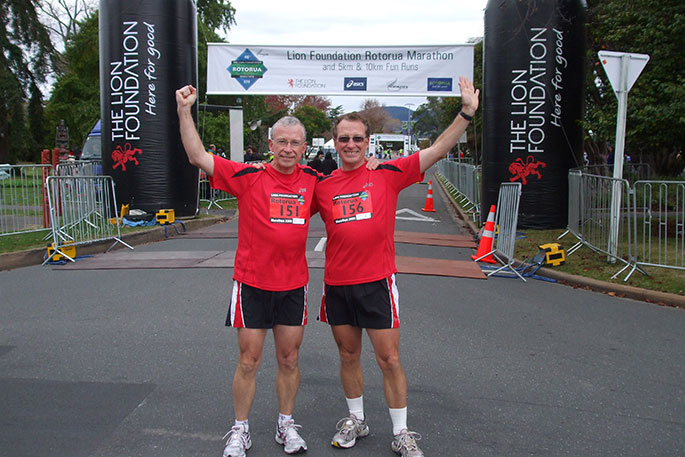 Under the old imperial system, one marathon is 26 miles 385 yards. If you run a hundred of them, you've covered 2622 miles or 4220 km!
That's the distance Phillip Donnell of Tauranga will attain when he completes his 100th marathon at Rotorua on May 5.
However, that's only the on-course component. The number of kilometres he has clocked up training for those 100 events, over the span of 30 years, is considerably greater. It represents thousands of hours pounding the pavement.
Being of short and stocky stature, Phillip says he was never much good at sprinting. He found endurance events much more to his liking.
When at high school in Hamilton, he performed creditably in steeplechases. In 1968, his team came third in the Waikato Secondary Schools championships. But the following year, while out training one night, he fell into a ditch, which put him in Waikato hospital for five weeks.
He never resumed running after that, though he remained active in tramping, kayaking and mountain-biking.
Running took a back seat for 20 years. In the summer of 1988-89, he walked the Kepler Track. At Rainbow Reach he and his twin brother Roger tossed their packs onto a truck.
Roger said to him, "You're always concerned about getting enough exercise. After 3 weeks walking you're reasonably fit. Why don't you try running the last 10 km of the track with me?"
He reluctantly agreed, but found that he actually managed it quite well and enjoyed the experience. At the end, Roger encouraged him to resume running as a regular pursuit.
Phillip was not highly motivated, but a few days later an envelope arrived in his mailbox in Gisborne.
In it was a YMCA Marathon Training Programme for Beginners, with a little note from his brother: "You are going to run your first marathon with me at Rotorua on our 38th birthday, 29 April. Follow this programme and you'll be alright on the day."
He did follow the programme - to the letter, and he did finish his first marathon (despite torrential rain, cold temperatures, and shoes that were too small!) - the Silver Jubilee event at Rotorua in 3:33:27.
He's been running ever since, clocking up 99 marathons (ranging from 3:07 to 7:01) and 115 half-marathons (ranging from 1:28 to 2:50) to date.
He says that he only intended to run one marathon, so "it's rather a pleasant surprise that I've managed to add a couple of zeros."
He has run Rotorua 21 times, and was admitted to the "Survivors' Club" in 2009. He has also run Auckland 13 times and been acknowledged as a "Roadster". Only 13 of his marathons have been in the South Island and only two overseas (Gold Coast and Jerusalem).
Admission to Suvivors club.
The most he completed in one year was 10 (in 2016), the least was 0 (in 2005). He has seen many marathons come and, sadly, also go, such as the Great Westland, Kokatahi, Whangamata, Hastings, and Marlborough. He prefers the small town cheaper events to the big city fat-fee races.
Phillip was actively involved in the Auckland Baptist Joggers and Walkers Club 1991-2003, but other than that "I've done my own thing. I have been fortunate to have had very few injuries over the years, and have been blessed with an understanding wife and supportive family."
If he's successful on May 5, Phillip will become the 45th member of the New Zealand 100 Marathon Club, part of a global network.
There are currently fewer people in the world who have run 100 marathons than have climbed Mount Everest, so this is a significant achievement. But Phillip reckons he's just a minnow compared to the multi-centurion achievers in the Club, including one who has finished more than 500 marathons.
When people ask Phillip what he likes about running, an acrostic comes to mind. It is a way to Massage your mind, Adjust your attitude, Replenish your resources, Affirm your affections, Track your time, Hone your heart, Own up to others and Nurture your nature.
More on SunLive...