Bay skaters' bring bout home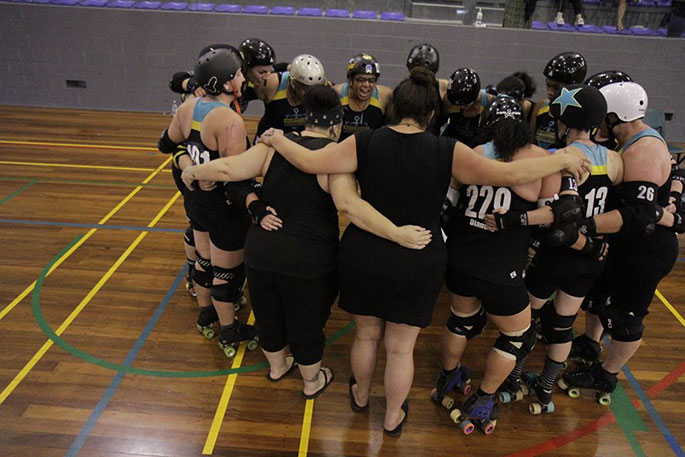 Picture a group of more than 20 women of all shapes and sizes on a race against time, throwing their bodies on the line, with blood, sweat, and tears.
Now, add in the fact that it's all happening on skates.
This is what Whakatane Roller Derby League is bringing home this weekend at their first game, or as the skaters call it, bout, of the season.
WRDL spokesperson Dylan Henderson says the team is excited to be back on the track.
"This bout is our first one in the New Zealand National Top 10 Tournament for 2018. We play four New Zealand teams this year in order to make it into the finals in Christchurch in October.
"Rotorua is first up, followed by our next bout in Auckland in June.
"It's also our first home bout of the year."
Dylan says the team is ready and equipped for the season, following weeks of rigorous training.
"We've increased the intensity of our trainings this year after a restructure of our coaching staff.
"We have a few veteran skaters leaving our roster so this will be a different line up than previously and we're looking forward to our newer skaters stepping up.
"We've also welcomed a new skater and coach from the world's top roller derby team.
"Former Victoria Roller Derby League skater Ivy K'nivey joins us this season and brings with her a wealth of knowledge and expert jamming skills."
Dylan says the team is making improvements, but is confident in their performance after looking back on last year.
"Last season we were second in the plate division as part of Top Ten, and we landed sixth in the tournament as a whole.
"We definitely had more than a few hard-fought battles and faced worthy opponents, but our overall resolve in the face of a lot of change this season has been our greatest accomplishment thus far.
"We've identified our weaknesses from last season and have now placed an emphasis on fitness and being tournament ready.
"Playing three bouts in one day at the finals was a shock to the system for a lot of us so it's something we want to be more prepared for going forward.
"A lot of our skaters have increased their training outside of roller derby, adding in CrossFit, boxing and weight lifting in an effort to increase stamina and overall fitness levels."
She encourages everyone to head along to the bout this weekend.
"Watching us skate is a rare opportunity," says Dylan. "You can see a game of netball or rugby anytime but how often have you had the chance to watch women of all shapes and sizes on roller skates throw their bodies on the line all the in the name of sport and entertainment.
"It's something completely different and filled with excitement from start to finish, there's no quiet moments in roller derby.
"Usually we get people who have never seen a bout before tell us it was a lot to take in at once and we understand that.
"You don't comprehend all the rules of every sport you watch for the first time however there's so much happening that the real fun is had by being in the midst of it and cheering on your home town.
"Whakatane is built on the idea of supporting wahine toa. You only have to look out at Wairaka for a reason to come along."
Adding to this, Rotorua is also a keen competitor, says Dylan.
"Their roster boasts some of New Zealand's best players but above all it is their attitudes, sportsmanship and love for the game that we admire the most. We love playing Rotorua."
She says a busy year follows the event and next up in the schedule, WRDL takes on New Zealand's best team.
"Auckland's Pirate City Rollers are next on our list in June. Then a second Auckland team will head to Whakatane for our final home game of the season in July.
"After that it's off to Dunedin for our final match up and finally we set off to Christchurch in October for the top 10 finals."
Watch Whakatane Roller Derby as they take on Rotorua's Sulphur City Steam Rollers this Saturday at Whakatane War Memorial Hall from 6pm-8pm.
Tickets cost $5 for adults, $2 for children and are free for children under 5 years.
For more information follow the team on their Facebook page or visit wrdl.co.nz
More on SunLive...