Veteran Mike 'Dad' Delany gears-up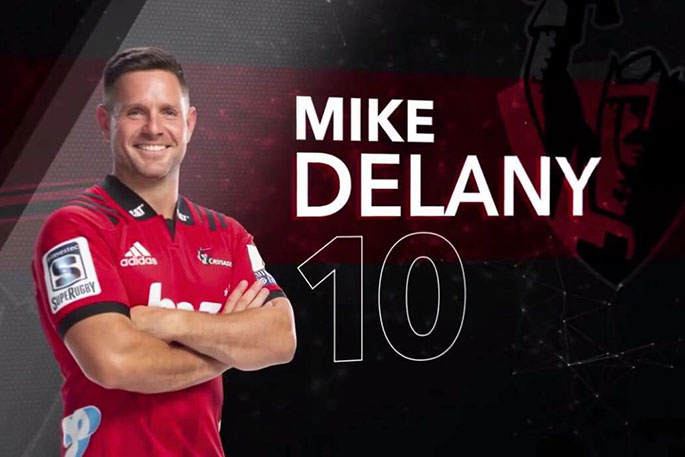 There wouldn't be much elbow room around the table if Mike Delany invited present or past first five-eighths to join him for chow after a Crusaders training.
Richie Mo'unga, Mitch Hunt, Ronan O'Gara, Brad Mooar and Delany have all played at first-five during their careers. Mo'unga, Hunt and Delany are all in the Crusaders playing squad, the former on the cusp – possibly against the Brumbies next weekend – of returning from a jaw injury suffered in the second game of Super Rugby this season.
Delany will make his first run-on start of the season at No 10 against the Sunwolves in Christchurch on Saturday night, with Hunt on the bench as back-up.
Assistant backs coach O'Gara, of course, earned well over a hundred tests for Ireland while another coach, Mooar, played at No 10 in Christchurch club rugby, and represented Canterbury in the lower grades before heading to London.
At 35, Delany knows he hasn't got a great time left in the game. Hence his surprise when Crusaders coach Scott Robertson asked if he would join the title holders on a one-year contract.
"I did have to think about it," Delany said. "It was nice to be home and the family was settled into Tauranga, and into New Zealand life. But you don't say 'no' to opportunities like this. It has been great so far, and I have never looked back."
It's never easy being the third-string first-five. The reality is these fellows spend a lot of the year making-up the "opposition" at trainings and Delany, who earned an All Blacks cap against Italy in 2009 and is called 'Dad' by some of his young team-mates at the Crusaders, was only going to be ranked ahead of Mo'unga and Hunt if they were whacked by injuries.
Three appearances as a substitute has been Delany's lot to date with the Christchurch-based side. In 2012 he was in the Highlanders squad, and then got the wanderlust as he chased the loot offshore; stints in Japan, France and England were followed by a return for Bay of Plenty in the Mitre 10 Cup.
Super Rugby seemed unlikely. Then Robertson called and he was on the move again. "I would never have dreamed to have been in the position I am in now," Delany confessed.
"I just wanted to come back and play rugby in New Zealand again. It has its challenges overseas, and I just wanted to enjoy my rugby. I love playing for the Bay (of Plenty) and this is just an added bonus."
This is the assignment from hell for the Sunwolves, a side yet to register to win this season; the TAB cannot dare to offer more than $1.01 for a Crusaders' win, with $15 for a Sunwolves' boilover.
Even with the Crusaders stripped of a bunch of key frontline players, including skipper Sam Whitelock, this has the potential to be a rout. For Delany, the designated goal kicker, it could be a busy night.
There will be some anxiety prior to kick-off, he maintained: "There's always nerves. I suppose I would be worried if there weren't nerves there, because it shows you are not on it."
The carnage in Super Rugby this year has been horrendous, with the Chiefs and Blues, especially, suffering a high injury toll. Delany said the speed of the national provincial competition offered him an insight of what was to come in Super Rugby. Players have never been so strong, and fast.
"The time on the ball, there is not a lot there. Everyone is trying to shut you down fairly quickly so your decision making has got to be sharper and quicker and your reaction speed [too].
"You have to be 'on' or you get stung. So it is a pretty intense environment. There is no time to lax off in that sense."
- Richard Knowler/Stuff.
More on SunLive...