The golden kumara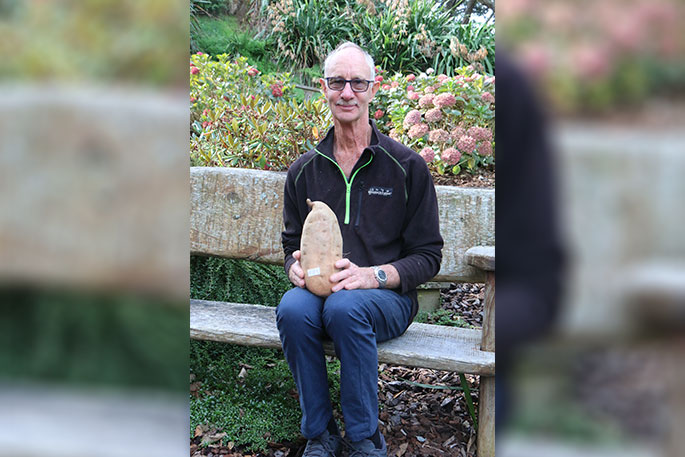 Tauranga's Graham Burns is stumped as to why his orange kumara has grown to the size of a rugby ball, but he is happy to show off his prized possession with the "big boy" weighing in at 2.27kg.
The self-proclaimed 'Kumara Man' has been growing a variety of fruit and vegetables, including potatoes, cabbage, cauliflower, sweetcorn and avocados on his two-acre block near the Wairoa River flats.
Graham wouldn't say he's an expert in growing kumara, but has learned a few tricks while watching his neighbours and researching.
"We had a competition in the street. I supplied the plants and so far I'm winning. So then they wanted to know if we could have a competition for the thinnest, the longest, prettiest, and I said 'no it's only weight," jokes Graham.
He says he lays the kumara in a bed of compost, covers it with straw and then adds river sand on the top.
When the shoots from the main tuba grow about nine inches tall, he breaks them off with their roots still attached and plants them in the ground.
"I think one of the tricks is that it is a very hard ground where we are. We are on the upper Wairoa River flats and we just use a rotary hoe that scratches about two inches deep, lay down some black plastic with a cut in the centre, and bury the kumara in there.
"So when he goes down, he hits the hard ground and goes out to the side and he can't go anywhere, so he thinks 'Oh, I better grow in size then."
This isn't Graham's first big kumara. He has also grown a purple kumara weighing 1.5kg.
"We had one last year that was about two thirds of the size, but it was still good inside, it wasn't woody and was still very tasty."
Graham has grown around 160 kumara that he has either given away to family or stored in a dark place. He says the key is to dust the dirt off, wrap them in newspaper and put them in a dark cardboard box, such as a banana box.
"We only grew 20 plants and when it came to harvesting them we filled the wheel barrow. They were just beauties!"
More on SunLive...