Bay pistol club host inaugural shoot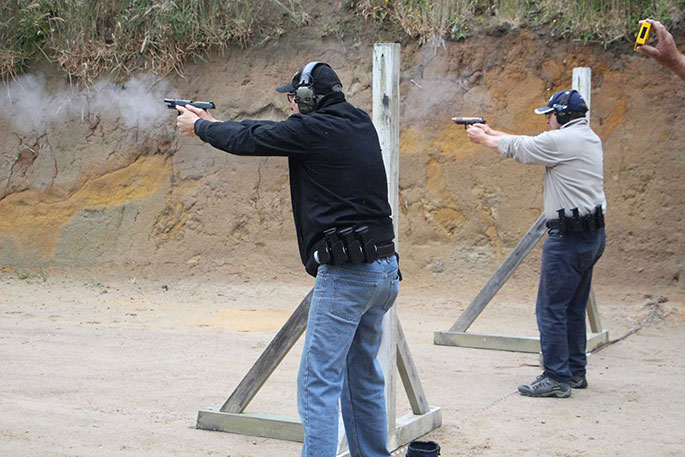 Pistol shooters of all ages and abilities will have the chance to blow off some smoke this weekend at Tauranga Pistol Club's Open Graded event.
John Peacock, a member of the club, says the three-day national event, is the first of its kind to be hosted in Tauranga.
"We're very lucky in that some of the competitors who will be joining us are former Commonwealth Games competitors.
"We have Greg Yelavich, who is renowned for winning the most Commonwealth Games medals in the sport; Allan Earle; Jason Wakeling; and Barry O'Neill."
John says the weekend is within the International Sports Shooting Federation calendar of events.
"There's five events happening this weekend, including the 50m pistol; 25m rapid fire; 25m centre fire/sports pistol; 25m standard pistol; and the 10m air pistol event.
"This is inaugural for us and it's sort of like a relaxed shoot but at the same time it'll also be full on – we'll have some top shooters and they don't go there not expecting to win."
John says the club is ecstatic to be its hosts - with the club proving to be popular in recent years.
"The New Zealand Pistol Association has many sections and the one we represent, ISSF, is a good basic.
"You learn the basics of shooting, but if you want to develop those skills you can.
"There's a lot of self-discipline needed in this section of the sport."
He says numbers are steadily on the rise.
"We get phone calls every week about people who are interested in coming along and having a go at what we do.
"Four years ago there was less than 100 members and now we are up to around 150."
The Open Graded event runs today at the Tauranga Pistol Club until 5pm and again tomorrow from 8.30am-4pm.Prizegiving will also be hosted at the conclusion of the day tomorrow.
Entry fee for adults is $15 and is $5 for children.
Spectators are welcome, but must obey onsite health and safety regulations and a sign-in process before entering the site, says John.
More on SunLive...